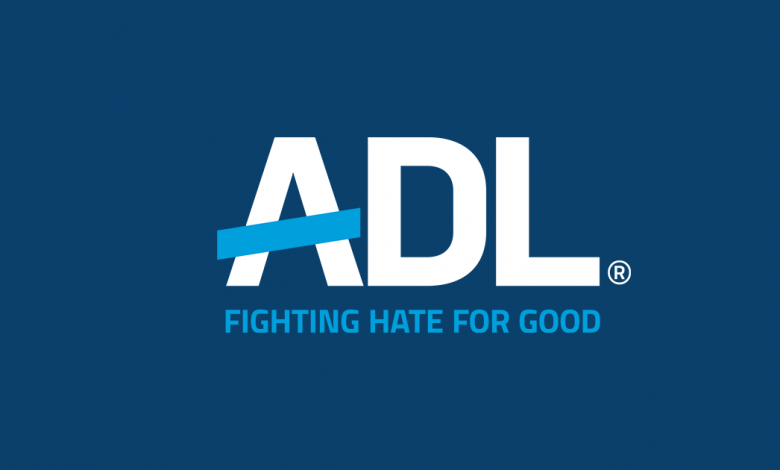 When it comes to any incident when online trolls, politicians or edgy comedians offend their sensibilities, the Anti-Defamation League pops out like a jack in the box in order to condemn the offender and demand an apology. It's not as if there is no anti-Jewish sentiment in society to speak of, but in the modern instant click world of social media and technology it is laughable to think that apologizing to the ADL and deleting a video or comment is a way to rectify such prejudice. Worse, in its actions such as aiding CNN in blackmailing an anonymous troll in 2017 for posting a wrestling meme or its director Jonathan Greenblatt proclaiming ashen-faced that the word "globalist" is anti-Semitic, the ADL has in its capacity as a Jewish community "leadership" organization become a laughingstock. But if there is anything that shows how vacuous it has become it is the ADL's willingness to sign on to initiatives along with groups that by its own standards are anti-Semitic.
In August the ADL joined in with the Jewish Council for Public Affairs in signing on with the Virtual March on Washington organized by the Rev. Al Sharpton who in 1991 was a central figure in inciting the Crown Heights Riot. As Liel Liebovitz wrote in The Tablet, "Sharpton was given ample opportunity to apologize for his prominent role in this modern day anti-Semitic bloodletting. He never did." Given this transparent betrayal, it is perhaps less surprising that the ADL has now also signed on to a letter by a "majority" of the American Jewish community in support of Black Lives Matter along with a sea of other Jewish groups that also run afoul of the ADL's standards. Many other "mainstream" Jewish organizations such as multiple chapters of the Jewish Community Relations Council and Jewish Community Federation also signed on. However, in their primary function none of the other groups are supposed to be watchdogs of anti-Semitism like the ADL.
First of all, the standard that the ADL holds includes the notion that anti-Israel criticism is anti-Semitic if "Israel is denied the right to exist as a Jewish state and equal member of the global community". The same page devotes two paragraphs to the sub-category of "anti-Zionism". Furthermore within this sub-category of anti-Semitism is the Boycott, Divestment, and Sanctions (BDS) movement for which the ADL devotes considerable space on its webpage.. If the ADL and other larger Jewish organizations had the chance to review the announcement prior to publication, they might have noticed that Jewish Voice for Peace appears on the document no less than 21 times, because each individual chapter of theirs signed on. The same goes for 28 individual chapters of Bend the Arc. JVP has repeatedly been cited as being an anti-Zionist group bordering on anti-Semitism, including a seven-part information section dedicated to them by. . . the ADL. It's not as if the organization is unaware of the phenomenon of progressive anti-Semitism as it defines it: In 2017 Greenblatt wrote an op-ed originally in Time entitled "Anti-Semitism is creeping into progressivism" that is also featured on the ADL's website. In his editorial, the ADL's head honcho focused specifically on these examples:
● The expulsion of three Jewish lesbians from the Chicago Dyke March for flying rainbow flags emblazoned with the Star of David.
● The accusation of genocide against Israel by the Movement for Black Lives, a nationwide coordinating group of the BLM movement.
● Linda Sarsour's declaration as then co-chair of the Women's March that Zionism is incompatible with feminism.
In 2018 Sarsour and fellow Women's March co-chair Tamika Mallory struck back when they successfully forced Starbucks to ditch the ADL as a provider of diversity training in the wake of the arrest of some black patrons for using the bathroom at a Philadelphia location of the coffee shop. Only months before Greenblatt condemned her, JVP had featured Linda Sarsour in a video as an advocate against anti-Semitism and also as a contributor in their book On Antisemitism: Solidarity and the Struggle for Justice. Later that year she blamed the "Jewish media" for her controversial reputation, while speaking no less on a panel about anti-Semitism! The ADL should have at least checked with the letter's organizers how they are being listed, because alphabetically they were placed right before the group "Anti-Zionist Shabbat", which is just an initiative of JVP Western Massachusetts.
Indeed, many of the organizations that signed on to this initiative besides JVP are explicitly anti-Zionist. Here are just a few:
● The Jewish Bundist Diaspora Movement (JBDM), which explicitly rejects the State of Israel or any other national homeland for the Jews. The JBDM is led by and centers around Dr. Abraham Weizfeld (as he stylizes his name) but its Facebook following is largely composed of Marxists of both Jewish and non-Jewish background.
● IfNotNow, an organization of Jewish youth dedicated to fighting against the Israeli presence in the West Bank/Judea and Samaria. INN's most famous initiative is "Not Just a Free Trip", an activist campaign against the Birthright Israel flights of Jewish students to visit Israel. However in August 2020 INN retracted its condemnation of the vandalizing of a Kenosha, Wisconsin synagogue with the "Free Palestine" slogan as anti-Semitic, and said that they wanted "to do teshuva (repentance) for distracting from . . . police violence and anti-Black racism."
● Jews for Racial and Economic Justice (JFREJ), a New York based organization that supports and overlaps with JVP on many initiatives specifically condemning Israel including during Occupy Wall Street. It is notable that in 2017 JFREJ's Leo Ferguson, head of the group's "Jews of Color Caucus", wrote an op-ed in Ha'aretz accusing "White Jews" of leaving the movement for racial justice. This is despite the fact that "white (Ashkenaz) Jews" are disproportionately supportive of BLM and like movements.
Ironically on August 11 the JFREJ and INN joined an initiative to "Drop the ADL". Co-signed to that letter were such groups as Queers Against Israeli Apartheid and Dream Defenders that the ADL has previously condemned for anti-Semitism.
It is important to note that the question of whether anti-Zionism is a type of anti-Semitism is a topic of contention and part of the free speech debate. But the ADL has a long track record of taking the side that says the two are connected. As one of the most prominent NGOs that has usurped the role of speech policing including partnering with YouTube to encourage censorship of "hate speech", the ADL sees fit to partner with nakedly extremist Jewish organizations in order to pay tribute to Black Lives Matter. This is a movement whose followers involved in countless incidents of race bias against whites, Hispanics, Jews, Asians, Italians and even the murder of an eight year old black girl named Secoriea Turner in Atlanta.
And as if there haven't been enough contradictions, the question should be asked whether the ADL is erasing its own central purpose in the name of toeing the line with BLM. By supporting a movement that is explicitly about defunding the police, the ADL is attempting to turn the boat around in the middle of a hurricane. Up until now the ADL has prided itself on its close relationship with and training of law enforcement on matters of hate crimes. With such a sudden about-face, the ADL is the latest example of an organization cancelling itself and thereby erasing whatever value in their long storied history that Greenblatt hasn't squandered.