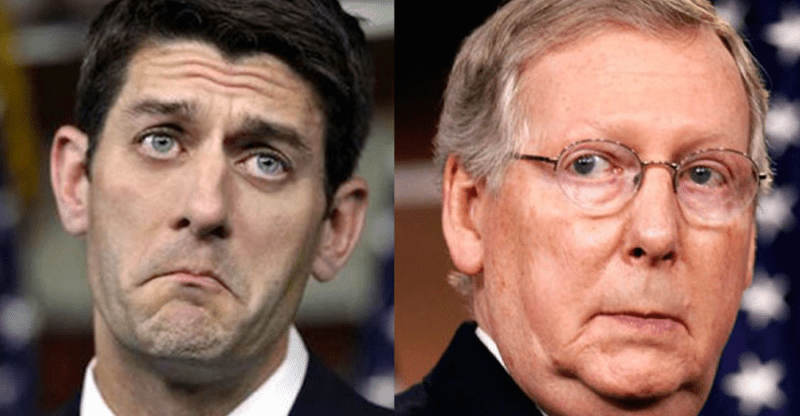 America
RINO ON RINO VIOLENCE! Ryan and McConnell to Tangle Over Entitlement Reform
As we reach a year removed from Barack Obama's 2 term long welfare state expansion, the legislative priority following tax reform should be either achieving a victory in healthcare reform or finally tackling entitlement reform in some significant way.

Speaker of the House Paul Ryan (R-WI) told the Weekly Standard that his priorities for 2018 are to reform entitlements, welfare and healthcare.
"I don't think the healthcare issue is done, at the end of the day, we've got to go after the root cause — healthcare inflation and entitlements. Welfare reform is going to be our next lift."- Speaker Paul Ryan
Although Speaker Ryan's idea may sound palatable to all segments of the GOP spectrum, one GOP heavyweight disagree's with the countries 2nd most powerful Republican: Senate Majority Leader Mitch McConnell (R-KY).

McConnell said at an event sponsored by Axios that "Democrats are not going to be interested in entitlement reform, so I would not expect to see that on the agenda,"
"What the Democrats are willing to do is important, because in the Senate, with rare exceptions like the tax bill, we have to have Democratic involvement," Senate Majority Leader Mitch McConnell
Although the GOP always has the reconciliation process, McConnell seems unequal to the task of whipping the votes to assist the House Speaker with his very reasonable sounding goals for 2018.

It could be that Ryan is finally looking to honor his many conservative sounding campaign promises, or the House Speaker and his RINO counterpart in the Senate are playing us all with creatively orchestrated political theater. Stay tuned in 2018...