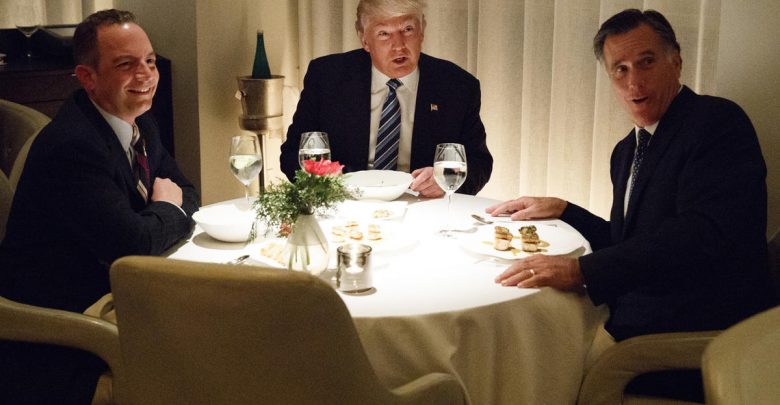 Republican Utah Senator Mitt Romney has a lot to say:
"I am sickened at the extent and pervasiveness of dishonesty and misdirection by individuals in the highest office of the land, including the President. I am also appalled that, among other things, fellow citizens working in a campaign for president welcomed help from Russia,"
A powerful statement on its surface, but Romney breaking former President Reagan's "11th Commandment," comes off as an opportunistic attack against a President that has been maligned in the national press by a bitter failed former presidential candidate that got his "just desserts" in getting passed up for any significant role in the Trump administration for doing everything in his power to prevent Trump's 2016 Presidential victory.
Romney has repeatedly made divisive and unnecessary public comments against his fellow Republican, ranging from:
The difference between @SenJohnMcCain and @realDonaldTrump: Trump shot himself down. 

We have good reason to believe there's a bombshell in Donald Trump's taxes. 

His coddling of repugnant bigotry is not in the character of America. 

His promises are as worthless as a degree from Trump University. He's playing the American public for suckers: He gets a free ride to the White House and all we get is a lousy hat. Salt Lake City, Utah Speech in March of 2016
This sounds like a man that is waging what he considers to be, a crusade for good, against a man that Romney's deepest guarded convictions tell him is a poison to America.
Flash forward to after President Trump's 2016 election victory. Romney was amongst the activists, industry leaders and administration wannabes jockeying for position in the forming Trump cabinet. When there was a check to be cashed, political or literal, Romney said:
 "We had another discussion about affairs throughout the world and these discussions I've had with him have been enlightening, and interesting, and engaging. I've enjoyed them very, very much. I was also very impressed by the remarks he made on his victory night. By the way, it's not easy winning. I know that myself. He did something I tried to do and was unsuccessful in. He won the general election and he continues with a message of inclusion and bringing people together and his vision is something which obviously connected with the American people in a very powerful way. The last few weeks he's been carrying on a transition effort and I can tell you I've been impressed by what I've seen in the transition effort."
The man that Romney charged with "coddling of repugnant bigotry," suddenly had, "a message of inclusion and bringing people together", while suddenly having discussions he found, "enlightening, and interesting, and engaging," with a man whose promises were represented by Romney to be "as worthless as a degree from Trump University."
Which brings us to of all places, China. The same China that has taken advantage of America's yielding to the international order, while simultaneously robbing the US blind for what seems like forever. The high end price of China's enervation against the United States is estimated to be over $1 trillion according to the aggregate numbers from 2018 reports from the United States Trade Representative, The Council of Economic Advisors, and the generally accepted number of $336 Billion that is lost to China annually.
Although the blatant hypocrisy in his dealings with President Trump is just the last resurrection of "Flip Flopper" Mitt, one particularly repugnant exhibition of perfidious "politicking" from the junior Senator from Utah has flown somewhat under the radar. In regards to the controversial issue of tariffs, Romney echoed Chinese sentiment that President Trump was, "the biggest trade war in economic history," when he said, "Trade wars are a tax on Americans. They have severe consequences for many employers and inevitably cost Americans jobs."
It can be seen as a relatively innocuous quote from Romney in its most basic context, but public figures leave an imprint that can be easily reviewed. It was during Romney's less than inspiring 2012 presidential election campaign where he himself proposed similar policy to what President Trump has used to score some clear, as well as some debatable, economic victories. Romney sounded a lot like Trump when, as part of his 2012 platform, he planned to place tariffs on Chinese imports if light of Beijing's exchange-rate protectionism and wanted to would ban federal purchases from China until its government procurement market opened fully to American exports.
The same man who proposed tariffs in 2012 also criticized former President Barack Obama's "protectionism" in the matter of China's flooding of the US with cheaply made tires during the same campaign season. At an October 2012 debate, Obama stated in regards to the tire issue, "We put a stop to it and as a consequence saved jobs throughout America. I have to say that Gov. Romney criticized me for being too tough in that tire case; said this wouldn't be good for American workers and that it would be protectionist,"
Apologists for this prolific duplicitousness in the Republican establishment inadvertently played a role in the rise of Trump Populism. Romney can fool some of the people some of the time, but at this late juncture, in order to continue to move an agenda that Romney himself has campaigned on/denounced, the answer must be for the Republican leadership to finally marginalize his increasingly irrelevant voice.
The time has come for the GOP to "quit Mitt."