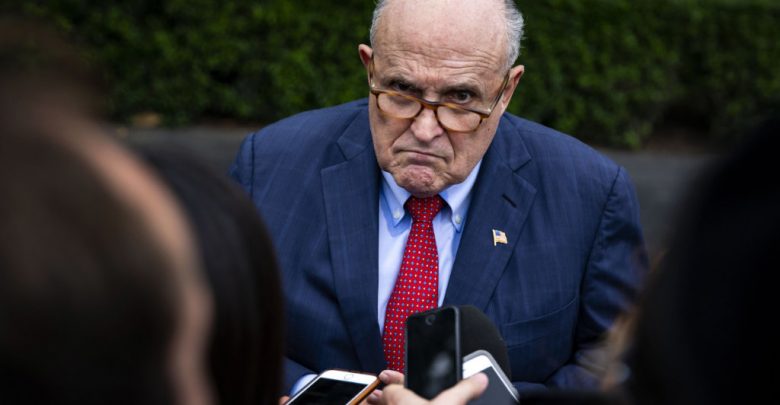 After a subpoena from chairmen of three House committees on Monday, Rudy Giuliani said he received advice from civil rights and constitutional lawyers who all recommend taking legal action against House Democrats – individual lawsuits for violations like attorney-client privilege, obstruction-of-justice claims and Article II of the Constitution.
"I think we have to raise their consideration of constitutional and criminal rights. This is worse than McCarthy. How about a total illicit impeachment proceeding? This is an illicit, rogue impeachment proceeding," Giuliani said.
The former mayor of New York City also claimed that he has evidence, video recordings and notes, which could incriminate House Democrats for trying to threaten foreign powers into silence – he made an example of Sen. Chris Murphy, who boasted telling Ukrainian President Zelensky that cooperating with Trump would be "disastrous for long-term U.S.-Ukraine relations."
Giuliani also had some interesting things to say about media bias – accusing mainstream media that they simply turn a blind eye to activities of many Democrats, specifically the Bidens, who are at the core of the current scandal.
"[The media] are covering up for the Democrats because they are more corrupt than anyone realizes. They are covering up serious crimes that were committed against the United States by the Bidens and taking millions and multi millions of dollars and putting the United States in a very compromised position," Giuliani said.
Amid subpoenas and inquiries however, Giuliani has hired former Watergate prosecutor Jon Sale as his attorney, who has previously shared his skepticism about Democratic-led investigations, such as Robert Mueller's Russia probe.
"There was something to cover up," Sale said about the Nixon administration's cover up in 1972 of a break-in targeting Democratic National Committee headquarters. "Here, there is no underlying crime. The ballot box is going to decide whether Trump continues or doesn't continue," Sale added.
To top it all off, a request on Sunday, made by Biden's presidential campaign, asks for major news networks to not feature or invite Giuliani on air, after Giuliani made rounds on several shows, arguing and highlighting what could be Biden's corrupt dealings in not only Ukraine, but China as well.