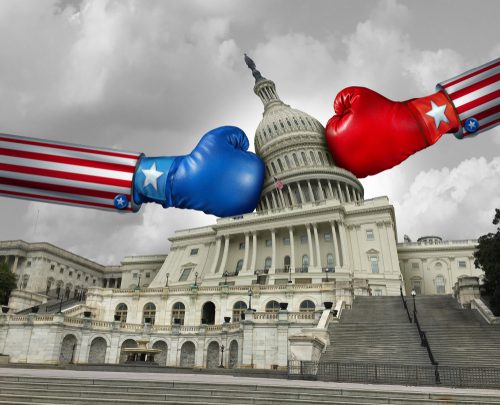 Democrats and Republicans in the Senate have clashed over the rules for President Trump's impeachment trials. Democrats demand assurances that the trial will include documents and witnesses to ensure a fair trial. 
Democrat Chuck Schumer says that the emergence of an email about American aid to Ukraine is a prime example of why the trial needs to be so open. 
Republican leader Mitch McConnell has not yet ruled out witness appearances, but he hasn't agreed to take testimony during the impeachment trial. 
President Donald Trump became the third US president to be impeached last week – over charges of abuse of power and obstructing Congress. It is unlikely that he will actually be removed from power as the Republican party holds the majority in the Senate, which is where the outcome of the trial will be decided.
It's expected that the trial will begin after the holiday break, some time at the start of next year. For now, Democrats still refuse to hand the Articles of Impeachment over to the Senate. 
They demand assurances from Senator Mitch McConnell that their witnesses – at least four White House aides who have knowledge about the situation – will be allowed to offer their testimony to the court. 
McConnell has suggested that the trial would go similar to the one held for former President Bill Clinton, who was impeached in 1999. That trial saw senators decide upon the witnesses to call after hearing opening arguments and a period of questioning. 
McConnell blasted House Speaker Nancy Pelosi and accused her of holding an "absurd position" for not handing over the impeachment articles, saying that she was "trying to tell us how to run the trial."
The Democrats ramped up their demands over the weekend when an email that suggested the White House would freeze aid to Ukraine. The email was sent 91 minutes after President Trump spoke to Ukrainian president Volodymyr Zelensky in July. This phone call is the foundation of the accusations against Trump. 
Chuck Schumer states that he failed to reach an agreement with the Republicans after a meeting on Thursday. He gave a press conference on Sunday saying that the Republicans "have come up with no good reason why there shouldn't be witnesses, why there shouldn't be documents." 
The Democrats are arguing that the Republicans aren't going to be impartial during the impeachment trial following Mitch McConnell's assurances that he would work in "total co-operation" with the White House. 
To add to all of this, the House of Representatives has introduced the possibility of impeaching Trump for a second time if new evidence against him comes to light.