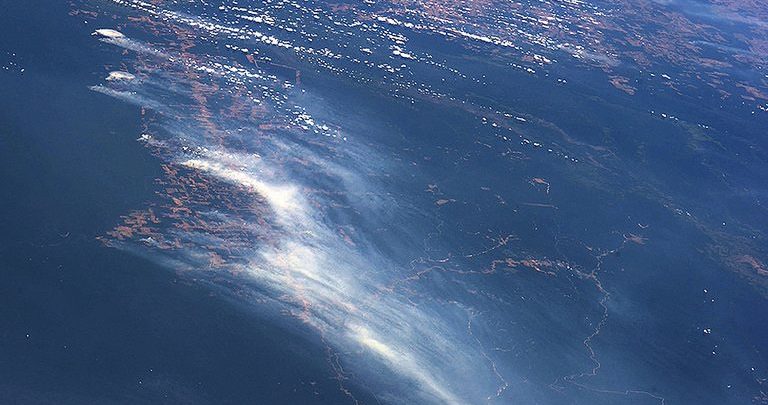 World
Smoke From Amazon Forest Fire Can be Seen From Space
The city of Sao Paolo, Brazil, went dark on Monday afternoon. It had nothing to do with the power going out or some other cosmic event though. It was because powerful winds carried smoke from forest fires around 1,700 miles away, according to the BBC. Reuters is also reporting that the Brazilian space research center INPE has detected around 73,000 fires so far this year, which is a new record. 
It wasn't just Sao Paulo residents reporting the smoke either. The American National Aeronautics and Space Administration (NASA) managed to capture images of the plumes from the forest fires as seen from space. 
NASA posted several satellite photos of the fires tearing through the Amazon between August 11 and August 13. The images showed smoke from the fires blanketing the four Brazilian states of Amazonas, Rondônia, Pará and Mato Grosso.
NASA said that it's rare to see fires across most of the year as the generally wet weather of the rainforest prevents fires from starting. Wildfires are most common in July and August when the dry season begins in the forests. According to NASA, forest fire activity typically peaks around early September before coming to an end by mid-November. 
The state of Amazonas declared a national emergency in response to the fires. Amazonas is the fourth-most affected area of Brazil this summer, according to reports from Euronews. 
The fires come at a time there is much concern over the future of the Amazon rainforest. Since Brazilian President Jair Bolsonaro took office in January, the right-wing president has been accused of harming the rainforest and the indigenous peoples living there to benefit farmers, loggers, and miners after they helped secure the election.