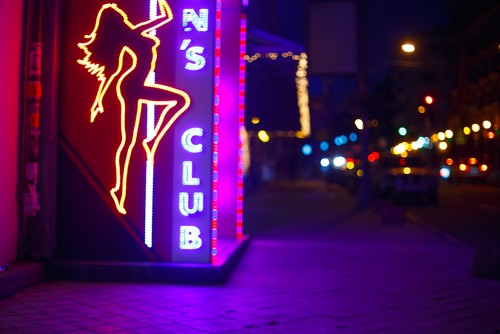 Lunden Alexis Roberts, the ex-stripper that filed a lawsuit against Hunter Biden for child support, wants Biden to reveal how much money he made while on the board of Ukrainian natural gas company Burisma, and also a request to admit that he received money from China for foreign or domestic investment purposes. 
The son of 2020 candidate Joe Biden has turned out to have been spending quite a bit at Larry Flynt's Hustler Club NYC, to the point of almost being a regular. We can only assume the amount of money Hunter Biden was paid at Burisma Holdings would equal a large stack of dollar bills... 
The Post's report says that every time he was there, he'd go into a private room with his companion, where expensive alcohol would be bought and several other strippers would join in on the fun. 
This did not exclude sex toys and drugs, as workers have suspected Hunter Biden of being high one night, also telling of his request, ending up in a worker being sent out to buy a dildo so it could be used on him. 
Despite Hunter's newly discovered wildness by the media, he was also described as an almost-ideal customer, with some sources calling him a "pretty nice guy," and a "pretty good tipper." 
Roberts, suing Hunter, has also requested that her attorney's fees and court costs, going over $11,000 dollars, be paid by Biden, something Brent Langdon asked a judge to deny. 
The case brings about child support as the topic, and despite Hunter's initial denial of having sex with Roberts, she filed court papers showing a DNA test that proves his paternity. Biden responded by saying he simply needed more time to "consult with his accountants," rather than the fact that he denied paternity. 
Comments have not yet been made by Biden's attorneys, or spokesman, or Hunter himself.