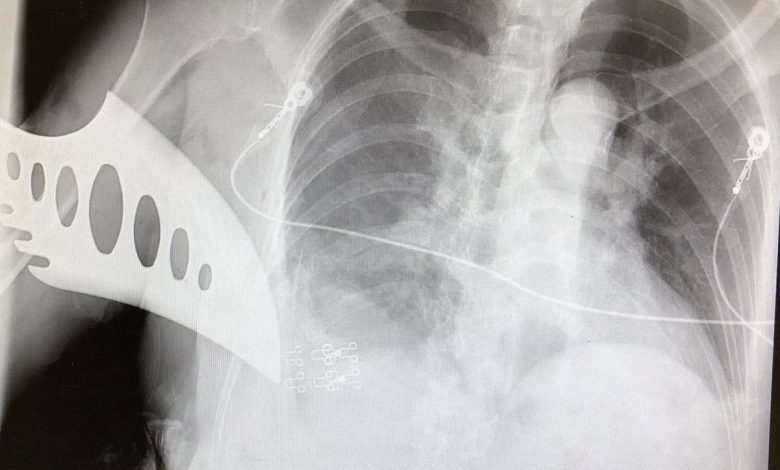 Two senior Asian women, ages 65 and 85, were stabbed near Market Street in San Francisco on Tuesday.
Graphic surveillance footage shows the two women waiting on a bust stop when a man approaches them from behind and brutally stabs both of them multiple times with a large knife. As bystanders rushed to help, the attacker calmly walked away.
"It was a pretty big knife, it had knuckles on the handle and the blade had holes in there like a military knife," Patricia Lee, a witness, told reporters.
The attacker applied such force that the blade broke off the handle and remained in the 85-year old Mrs. Fong's body. An x-ray of the knife in Mrs. Fong's body shows that the blade is bigger than the woman's arm.
This is the x-ray of the knife in 85-year old Mrs. Fong's body.
⠀
Like my previous Tweet of the video showing the stabbing— I sat on this photo & debated if showing it provided value & context. Here is why my team & I believe it can.

(1/3) #StopAAPIHate #AAPI pic.twitter.com/MhaScycPmW

— Dion Lim (@DionLimTV) May 6, 2021
The San Francisco Police Department said that both women received treatment for multiple stab wounds and remain in hospital. Neither woman is in critical condition.
Chui Fong's relatives have set up a GoFundMe to help pay the medical bills.
The SFPD Arrested the Suspect Only Two Hours After the Attack
The SFPD arrested Patric Thomson, 54, two hours after he allegedly stabbed the two women. According to the police, Thomson faces two counts of attempted murder and two counts of elder abuse.
Thomson has a criminal record that includes assault with a deadly weapon in 2017 and 2019, but instead of going to jail for 25 years, he was let out on mental health diversion in the fall of 2020.
Investigators are yet to say whether the recent attack was a hate crime.