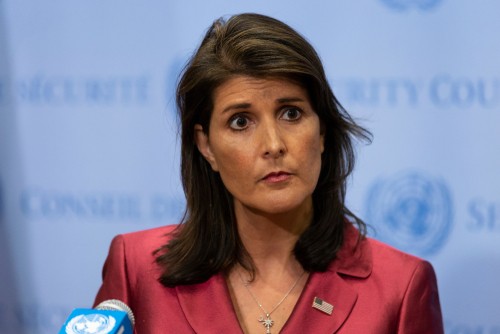 Government
Rex Tillerson and John Kelly Tried to Turn Nikki Haley Against Trump
Former United Nations ambassador Nikki Haley reveals a plan to undermine the president by two of his advisers, who were also looking to recruit Haley into their scheme. 
"Saving the Country" 
Former Secretary of State Rex Tillerson and former White House Chief of Staff John Kelly had reached out to Haley, telling her that she should resist the president and not do as he says: 
"It was their decisions, not the president's, that were in the best interests of America, they said. The president didn't know what he was doing," a memo in her book, to be released Tuesday, says. 
Despite the two's efforts and constantly confiding in the former Republican governor, she refused to listen and join in on their plan to subvert President Trump, and instead defended him, saying it was her obligation to carry out his orders, since he is the one who voters chose. 
"And instead of saying that to me, they should've been saying that to the president, not asking me to join them on their sidebar plan. It should've been, 'Go tell the president what your differences are, and quit if you don't like what he's doing,'" she said in an interview on CBS. 
Nikki Haley's "With All Due Respect" 
Haley, former United Nations ambassador, as well as former Republican governor of South Carolina, has widely been seen as a potential Republican contender for the White House, although she has said multiple times she has no intention to run for office. Her new book, "With All Due Respect," coming out Tuesday, might reveal some of her thoughts and reasons for not being a candidate. 
A recent opinion on the ongoing impeachment from the former governor also showed her completely dismissing House Democrats' efforts, however, she said she is also against any actions that involve foreign aid for personal gain.