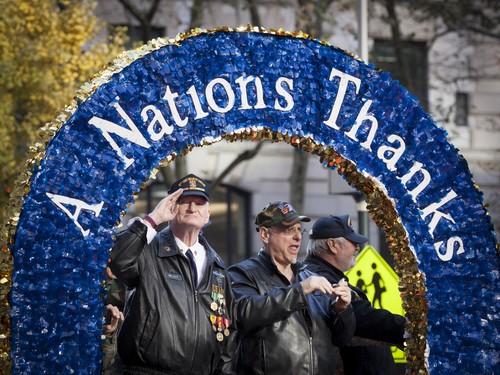 Headline
Trump Set to Lead Veterans Day Parade in Show of Support to Our Troops
Donald Trump is making history by being the first president ever to kick off the New York City's Veterans Day Parade. President Trump has long supported veterans and is now the first president to accept the United War Veterans Council's invitation to the parade. 
Trump and Veterans 
Despite many negative opinions about Trump, including some at the event itself, where people were seen screaming "impeach" or "convict", adding phrases like "lock him up," the President has been doing a lot for veterans long before he even thought of running for office, earning the respect of both current servicemen and veterans. 
"The President has been great supporter of our veterans and indeed this parade here in New York City for more than 25 years. What he is doing now as president with regard to veterans choice, funding our military, and holding them and their families in the highest regard is truly extraordinary. He is loved by our veterans for sure," the 2019 Veteran's Day Parade co-producer Bill White said, making some remarks on Trump's past contributions, which date all the way to 1985, where he made a $1 million donation to help create a Vietnam Veterans Memorial, going all the way up to the present day. 
The NYC Veteran's Day Parade 
More than 25,000 people, including veterans, military personnel, and supporters, will be participating in the traditional march, going along Fifth Avenue from 24th Street to 46th Street. 
The event is annually hosted by the United War Veterans Council, who have gotten a kick this particular year with Trump's appearance and personally accepting the invitation: 
"This is a day when we put politics aside to focus on honoring our veterans, and to recommit ourselves as a community to providing them with the services they have earned, the services they deserve and, for many, the services they were denied," 

-Chairman of the United War Veterans Council Board, Doug McGowan 
Last year, the president was not present on Veterans Day, expressing regret over his decision, but it seems, all is made up for this year, as he gives the opening speech, with many of the nation's great heroes in attendance, a seemingly small gesture turns into a great deal for all veterans, as a sign of great respect for their deeds and sacrifices in the name of the country.