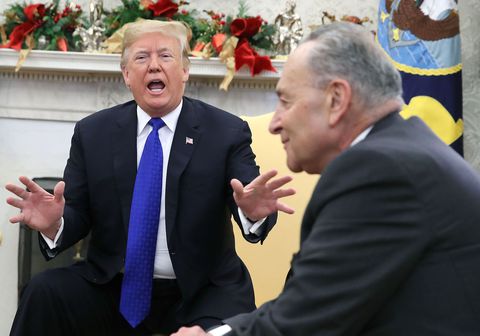 President Trump requested an end to what he is calling "Phony Investigations" by the Democrats. He needs to see the end of the continued fishing expedition by the Democrats before he'll negotiate with them on issues like infrastructure, and he delivered a statement from the Rose Garden after cutting a planned meeting short with House Speaker Nancy Pelosi and Senate Democratic Leader Chuck Schumer.
The president had barely started discussing the issue of infrastructure with the two Democratic leaders in a scheduled session before the meeting blew up. Just moments before the meeting, Pelosi accused Trump of having "engaged in a cover-up" regarding the Russia probe and Mueller Investigation.
"You can't do it under these circumstances," Trump said. "Get these phony investigations over with."
Trump added: "I don't do cover-ups."
Senate Minority Leader Chuck Schumer attempted to paint the President's actions as a "pre-planned excuse."
"We are interested in doing infrastructure," Schumer said. "It's clear the president isn't. He is looking for every excuse." Pelosi added, "He just took a pass. And it makes me wonder why he did that. In any event, I pray for the president of the United States. I pray for the United States of America."
The President followed up on today's controversy via his favorite social media outlet, Twitter, when he tweeted:
So sad that Nancy Pelosi and Chuck Schumer will never be able to see or understand the great promise of our Country. They can continue the Witch Hunt which has already cost $40M and been a tremendous waste of time and energy for everyone in America, or get back to work....

— Donald J. Trump (@realDonaldTrump) May 22, 2019
It seems that the Democrats (and some Republicans) are more interested in a 2020 strategy that focuses on innuendo and speculation than they are at elevating their election prospects by doing the job that they were elected to do.