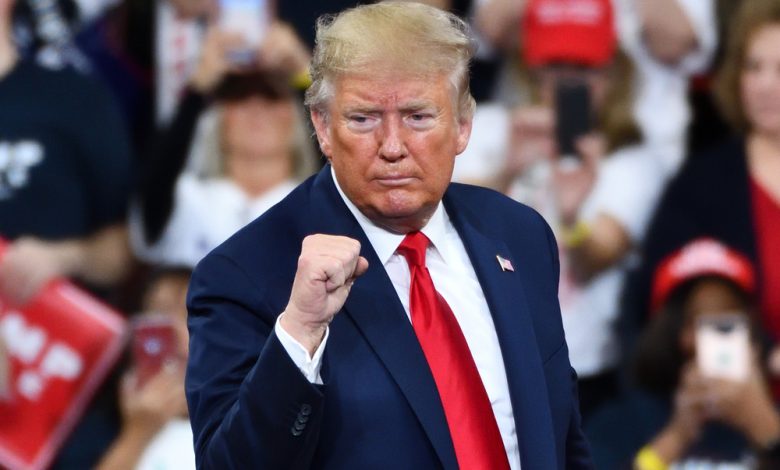 The crowd was enormous and enthusiastic and the liberal media could not possibly spin this into anything other than a major win for former President Donald Trump and his supporters.
The Saturday night rally in Wellington, Ohio, drew thousands who waiting to hear the former president's takes on the multitude of failures for America under new president, Joe Biden, among other things.
Additionally, attendees witnessed Trump campaign for GOP congressional candidate Max Miller, who is running in Ohio against incumbent Republican congressman Anthony Gonzalez. Despite being a member of the GOP, Gonzalez has taken an anti-Trump stance which has put him in the former president's crosshairs as the midterm election season draws closer.
Of Gonzalez, President Trump said, "He's a sellout," and added, "He's a fake Republican and a disgrace to your state. I will tell you that, and he's not the candidate that you want representing the Republican Party. He's the candidate of [Wyoming GOP Rep.] Liz Cheney. That's another beauty."
Despite the Ohio setting, most of Trump's fury was aimed at his 2020 Election opponent, Joe Biden.
Some of Trump's more memorable quotes attacking the current administration on Saturday night included:
"After just five months the Biden administration is already a complete and total catastrophe. I told you. Crime is surging. Murders are soaring. Police departments are being gutted. Illegal aliens are overrunning their borders. Nobody's ever seen anything like it."

"Our poor borders. They was so perfect. They were so good. Drug cartels and human traffickers are back in business like they've never been before. They're doing numbers that they've never even thought possible. Just a few short months ago, drugs were way down, human trafficking was way down. It was all way down." _Former President Donald Trump in Ohio Rally Saturday Night
The major announcement that most in attendance were waiting for, Trump's intentions for 2024, were not clearly defined last night. One thing that was evident however, based on attendance and enthusiasm, was that the former President will be a factor in the next few elections regardless of whether he actually runs for office.