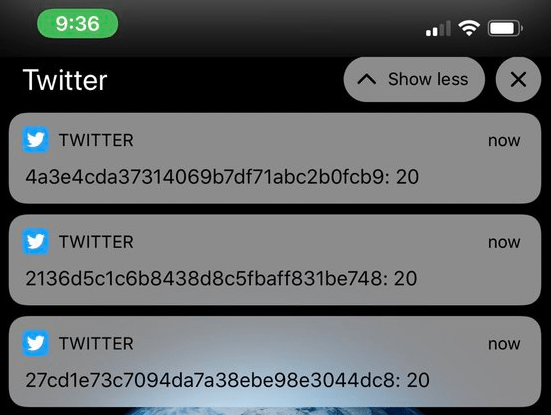 Technology
Twitter Users Receiving Strange Notifications
Earlier today, a glitch on Twitter resulted in users getting multiple notifications containing a string of letters and numbers. Many users tweeted screenshots of the issue trying to figure out if other users had the same problem. Some even feared that their accounts might have been hacked. Twitter CEO Jack Dorsey sent a tweet stating they are aware of the issue and are trying to resolve it.
We're seeing this issue too. On it. pic.twitter.com/pzjd6248gJ

— jack (@jack) October 16, 2018


A few hours later, Twitter Support stated the issue was due to a bug in the notification system. While Twitter Support did not go into details of how the bug occurred, they explained that the notifications with the string of characters was actually the code used to prompt your phone to display the red bubbles that appear on Twitter when you get a notification. The issue has since been resolved.
You know those red bubbles that appear when you get notifications? Usually, you wouldn't see this in numbers and code, but that's how we talk to your phone so you get those notifications. It's fixed, we're good. https://t.co/JA71hewEvS

— Twitter Support (@TwitterSupport) October 16, 2018