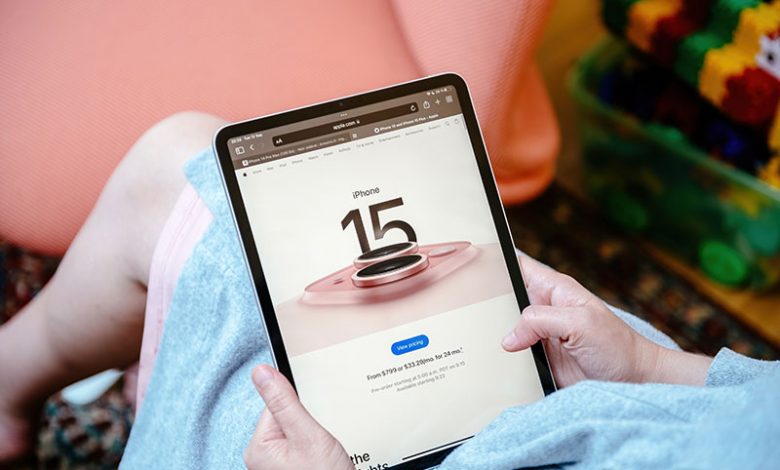 Introduction
The tech world is buzzing with anticipation for the newest updates from Apple, namely iOS 17 and iPadOS 17. Announced at Apple's WorldWide Developer Conference (WWDC) on June 5, 2023, and released officially on September 18, 2023, these updates promise to reinvigorate and redefine how users interact with their devices. This is particularly true for iPadOS 17, which offers a host of new features and enhancements, improving the overall user experience for iPad owners.
This guide is intended to assist iPad users in smoothly transitioning to iPadOS 17. We'll take you step-by-step through the process of updating your device to the latest iPadOS version, free from complications and hassle. Whether you're an experienced tech aficionado or new to the Apple ecosystem, this quick guide will assist you in taking full advantage of all that iPadOS 17 has to offer.
Anticipation for iOS 17 and iPadOS 17
The enthusiasm surrounding the launch of iOS 17 and iPadOS 17 is considerable. Apple made a series of exciting announcements during its WWDC 2023 event, revealing many innovative features set to arrive on the iPhone and iPad. Such announcements generate significant excitement within the Apple user community and beyond as they transform the way we use our devices.
Release date
For those eager to get their hands on the new iPadOS 17, the wait was over on September 18, 2023. As announced at the iPhone launch event, iPad users had the opportunity to install iPadOS 17 on their iPads from this date and start exploring the new features.
Objective of the guide
The primary objective of this guide is to assist users in upgrading their iPad to iPadOS 17. Understanding that software updates can sometimes feel daunting, particularly with significant version changes, we've streamlined the process into a step-by-step tutorial. This way, you'll be fully prepared to experience all of the enhancements and features that iPadOS 17 brings to your device. Stay tuned to navigate this transition effortlessly.
iPadOS 17 Compatibility
iPadOS 17 brings with it a collection of new features and improvements, but not all iPads can benefit from these enhancements. Apple has specified that to install this update, your iPad needs to be equipped with an A10 Bionic chip or its successors. These include a variety of iPad Pro, iPad Air, standard iPad, and iPad mini models.
iPads equipped with an A10 Bionic chip or its successors
The A10 Bionic chip, first introduced with iPhone 7, stands as the baseline for iPadOS 17 compatibility. This includes all subsequent chips: the A10X Fusion, A12 Bionic, A12X Bionic, A12Z Bionic, A13 Bionic, A14 Bionic, and more. Such devices are designed to operate smoothly with the latest software updates, ensuring a seamless user experience.
Specific models eligible for the update
If you're unsure whether your device falls within the compatibility range, here's a quick list of specific iPad models that can be upgraded to iPadOS 17:
iPad Pro 12.9-inch (2nd, 3rd, 4th, and 5th generation)
iPad Pro 11-inch (1st, 2nd, and 3rd generation)
iPad Pro 10.5-inch
iPad Air (3rd, 4th, and 5th generation)
iPad (6th, 7th, 8th, 9th, and 10th generation)
iPad mini (5th and 6th generation)
Models that have been removed from support with the arrival of iPadOS 17 include certain older iPads such as the 2016 iPad Pro 9.7-inch, 2015 iPad Pro 12.9-inch (1st generation), and 2017 iPad (5th generation).
Prioritizing Data Protection
Before jumping into the upgrade process for iPadOS 17, it's crucial to focus on data protection first. The reality is, data loss can sometimes occur during an operating system upgrade. To prevent such an unfortunate event, it's always recommended to back up your iPad before attempting to install a new OS version. Several methods are available to you, including iCloud backups, Mac backups, PC backups, and even third-party tools.
Importance of Data Backup Before Update
To safeguard your personal and important data, always perform a backup before an OS update. This is an essential step because if anything goes wrong during the update process, you can quickly restore your iPad using the backup without losing any data. Remember, it's always better to be safe than sorry when it comes to your valuable information.
Available Backup Options: iCloud, Mac, PC
You have multiple options when it comes to backing up your iPad data. These include iCloud, utilising your Mac or PC, and even using third-party tools. The method you select usually depends on your personal preference and device availability.
iCloud Backup
iCloud Backup is certainly one of the simplest methods. To execute this, first connect your device to wifi and navigate to the iCloud settings in your iPad. Tap on iTunes & App Store, then select "iCloud Backup". Finally, tap on the "Back Up Now" option, and your device will automatically be backed up, provided it remains connected to Wi-Fi.
Mac or PC Backup
Backup can also be performed on a Mac or PC via iTunes or Finder. After connecting your iPad to your computer, you need to select your device under the "Devices" section on Mac (in Finder), or under iPad in iTunes on a PC. Then, click "Back Up Now". Keep your device connected until the backup process is completed.
Whether it's through iCloud or computer, taking that step to back up your device before an upgrade can save you from potential data loss, making the transition to iPadOS 17 all the smoother.
Installation of iPadOS 17
After ensuring compatibility and backing up your data, the next step in the process is the actual installation of iPadOS 17. This task requires some preliminary measures such as WiFi connection and a designated power source. After these are in place, you can follow the navigational steps to perform the software update.
Preliminary Requirements: WiFi Connectivity, Power Source
To successfully run the update, your iPad must be connected to a stable and reliable WiFi network. This is because the software update is typically large and requires a strong internet connection for a smooth and seamless download. Also, ensuring that your iPad is plugged into a power source is advisable to prevent the device from powering off during the update due to a drained battery.
Navigational Steps for Software Update
To update your iPad's software, first access the 'Settings' application on your device. Then, navigate to 'General', and finally 'Software Update'. Here, you should see the update for iPadOS 17. Tap on either 'Install Now' or 'Download and Install' to start the update process.
Input Passcode, Review, Accept Terms
During the installation process, you will be prompted to input your device passcode for verification purposes. Additionally, you will need to review and accept the terms and conditions for the update. It's always advisable to read through these before proceeding with the installation.
Aftermath of Update Completion: Restarting, Preferences Setup
Upon completion of the update, your iPad will likely restart to implement the changes made by the new operating system. You might also need to go through a few preference setup steps to customize the new features and settings introduced by iPadOS 17, shaping the system to your usage patterns and needs.
Pointers in Case Update Doesn't Show up Immediately or Requires More Space
It's important to note that the iPadOS 17 update may not appear immediately for all users. If this is the case for you, simply check back after a few hours. Also, if a message appears during the update indicating the need for more space, remember that the system might temporarily remove some applications to accommodate the update. However, these apps will be automatically reinstalled once the update is completed.