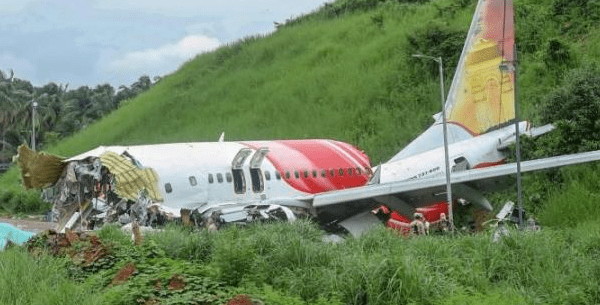 At least 18 people have been confirmed dead after an Air India Express plane skidded off the runway at Calicut Airport in Kerala, India, and crashed into a valley. The pilots attempted to land the plane in heavy rain after aborting their first landing attempt and circling the airport for 20 minutes. The plane missed the runway and continued into a 30-foot valley at around 7:45 PM local time (2:45 GMT). 
18 Dead and 123 Injured
Officials say the plane was a repatriation flight, bringing Indian citizens home to the country. Regular commercial flights in the country have been put on hold due to the coronavirus pandemic. 
Images of the crash circulated on social media, showing the aircraft split in two in the valley. Initial police reports say that 14 people were killed in the crash, including the 2 pilots, with 123 people injured to various degrees. Some of the injured passengers later succumbed to their wounds, bringing the death toll up to 18 in all. 
Amitabh Kent, the head of the government planning commission, said the runway was difficult to land on due to the gorges on either side. Speaking to national television, Kent explained that the crash was caused because of poor visibility and heavy rain. 
Air India Express issued a statement saying there was "no fire reported" when the plane crash-landed. The statement also says the plane was carrying 174 passengers, 10 infants, five cabin crew, and the two pilots. 
Local media states that 15 ambulances responded to the scene, evacuating injured crew and passengers to hospitals. Reports say that dozens of passengers were evacuated to hospitals, with at least 15 of them being critically injured. An emergency service official stated anonymously that rescue operations were underway but workers were having difficulties due to the heavy rain. 
Kerala, where the incident took place, has been hit by heavy rain in recent days. South Asia is hit hard by the annual monsoon season that lasts from June to August. This was the first fatal crash of an Indian passenger aircraft in a decade.