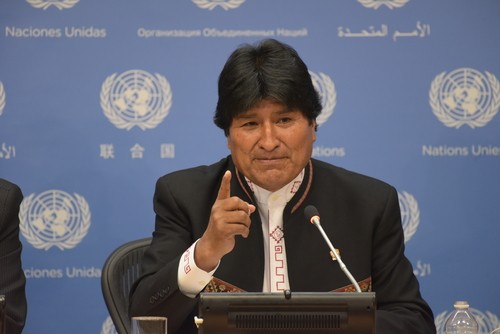 World
Socialism Fail: Bolivian President Evo Morales Resigns After Election Fraud Scandal
After a tight victory on the Oct. 20 elections, Bolivia's socialist President Evo Morales announces his resignation, after a slew of protests that bordered on a coup d'etat. 
Protests and Alleged Fraud 
Protests in Bolivia have escalated from being peaceful to quite violent, with hundreds injured and at least three killed. President Morales is stepping down from his fourth term after losing support from the military. A successor cannot be immediately named, as both the vice president and the Senate president, have also resigned. 
Morales' opponents in the elections, as well as opposition leader and former President Carlos Mesa, showed a report by the Organization of American States (OAS), which demonstrated "monstrous fraud," saying that there should be new elections, in which Morales should not be allowed to participate in. 
The OAS said it had discovered a "heap of observed irregularities" in the Oct. 20 elections: 
"Mindful of the heap of observed irregularities, it's not possible to guarantee the integrity of the numbers and give certainty of the results," their statement said, pushing the country into a new presidential election. 
Despite potential fraud, Morales has done quite a bit for his country, being the first leader to send a satellite to space, curbing inflation, as well as overseeing a commodities-fed economic boom in Bolivia, which remains the poorest country in South America. However, Morales has also been criticized by both the right and the left for his authoritative style of leadership. Civil unrest and protest have been abundant during his tenure as president. 
"After analyzing the situation of internal conflict, we ask the president to resign, allowing peace to be restored and stability to be maintained for the good of our Bolivia," Gen. Williams Kaliman, Bolivia's military chief, said about the resignation on national television. 
It is yet to be announced when the next elections will be held, and whether or not Morales will be allowed to run for president again, or be locked out of the race.