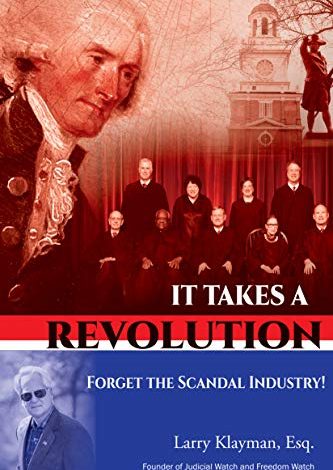 Attorney Larry Klayman says it's a very good day for Americans.
"President Trump warned via Twitter that there will be a "very big" and "wild" protest on Jan. 6 due to allegations of election fraud."–WUSA9
President Trump never spoke of violence. He went on Twitter to denounce it. But, the over 250,000 who traveled to Washington and the millions of others internationally who were ignored, attacked and deprived the past four years of the truth and fairness were entitled to peacefully, and I stress, peacefully protest.
We discussed his new book, It Takes a Revolution: Forget the Scandal Industry!
With a title that satirically mocks "It Takes a Village" by Hillary Clinton, "It Takes a Revolution: Forget the Scandal Industry!" details how our executive, legislative, and judicial branches of government have become thoroughly corrupt and failed the citizenry.
Imploring Americans to turn away from the "scandal industry" of the cable news networks, which enrich themselves by magnifying crises—if not creating mass panic to boost ratings and advertising dollars—and offering false hope to lure viewers that there will be justice to remedy government corruption, author Larry Klayman, both the founder of Judicial Watch and now Freedom Watch, offers concrete solutions for creating a federal judiciary and instituting citizens' grand juries. Quoting Founding Fathers like John Adams and Thomas Jefferson, Klayman explains above all that without ethics, morality, and religion, it will not matter how many times we change our forms of government or rules—there will be no lasting liberty.
This work is a wake up call during these times of crises, when government corruption has hit a "cancerous state." The overriding message of It Takes a Revolution: Forget the Scandal Industry! is that Americans should turn off cable news, stop being entertained by it, get up off of the couch, and join the second American Revolution—albeit a peaceful and legal one—to restore the greatness of our nation in these trying and perilous times. Our continued existence hangs in the balance!
Cindy Grosz: Thoughts on the results of the Georgia Senate races.
Larry Klayman: Only in America at this time can a political party elect a women abuser anti-Semite and a self-hating socialist Jew and have a party filled with hate thinks that this is good.
C: Thoughts of the future of the Republican Party?
L: Many killed their future aspirations, especially Mike Pence. The Republican Party died. There will be new life in primaries and perhaps a new third party.
C: Thoughts of how January 6, 2021 will go down in history?
L: This government, and I mean both parties, don't recognize "We The People." We have to start over as our forefathers did before the American Revolution. We won't have our "Tea Party" but we will throw RINOS overboard, expose them and not re-elect them. My book lays out strategies to expose government corruption, turning away from the media and making citizens "wise up" to their rights.
Larry Klayman, Esq., founder and former chairman of the successful non-profit foundation Judicial Watch, has dedicated his career to fighting against injustice and restoring ethics to the legal profession and government. He was born and raised in Philadelphia, graduated with honors in political science and French literature from Duke University, and later received a law degree from Emory University.
He is the only lawyer ever to have obtained a court ruling that a U.S. president committed a crime, which occurred during his tenure at Judicial Watch. He became so well known that NBC's hit drama series The West Wing created a character inspired by him, named Harry Claypool of Freedom Watch.
In 2003, Mr. Klayman left Judicial Watch to run for the U.S. Senate. After his Senate race, he established Freedom Watch. As head of that organization and his law firm Klayman Law Group, P.A., he now divides his time between South Florida, Los Angeles, and Washington, DC.