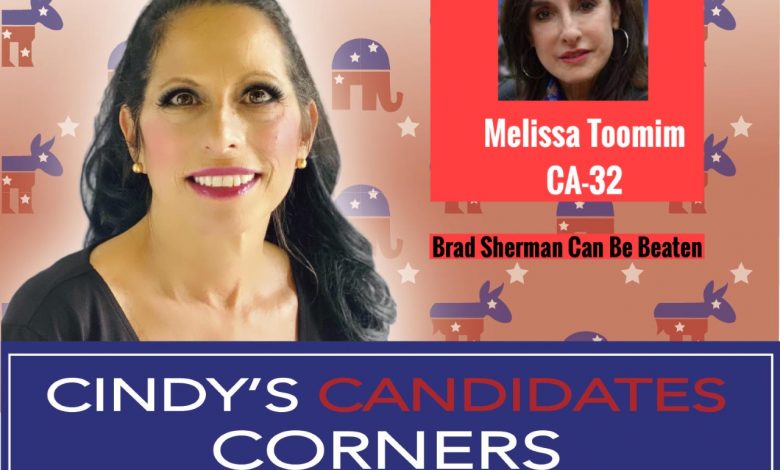 Meet Melissa Toomim. She is a true Jewish heroine, a modern day David vs her Goliath, or an Esther wanting to represent and save the Persian Jews of California from crime, rising costs, alarming rates of hate crimes and improvements in education.
She is running against a Jew, a well known Jew, Brad Sherman, who has several million dollars in his bank and is a senior member of the House Foreign Affairs Committee. Toomim is ready to go head-to-head with Sherman as a Jew and for his support of the Biden's failure in foreign policy and his inaction to censure the anti-Semitism of "The Squad."
Toomim is a journalist and writer running in California's District 32, one of the most Jewish districts in the country.  It comprises cities, communities and districts in Western Los Angeles County. The District includes    Pacific Palisades, Brentwood, Bel Air, Beverly Crest, Topanga, Malibu, Studio City, Sherman Oaks, Encino, Tarzana, Woodland Hills, Agoura, Reseda, Winnetka, Canoga Park, Hidden Hills, Bell Canyon, North Hills West,  and Granada Hills South. Traditionally liberal, it is trending like other Jewish areas where parts are turning conservative and red.
Toomim's unique qualification relates to one of the biggest failures, the withdrawal from Afghanistan and the innocent Americans left there.
According to Toomim, there are still Jews there. Conversas, and she is working tirelessly to rescue through underground missions those that want to leave, risking everything.
Congressman Brad Sherman participated in the House Foreign Affairs Committee's hearing evaluating the U.S. withdrawal from Afghanistan with Secretary of State Antony Blinken.
Supporting his commander in chief, President Biden, Sherman focused his questioning on attacking the previous administration, rather than focusing on the failed actions. According to statements, "It was the lack of any planning by the previous Administration for the withdrawal which President Trump had negotiated with the Taliban. That agreement allowed for the release of 5,000 Taliban fighters and leaders without even reasonably enforceable commitments from the Taliban. Sherman also noted that there was no effort to know what Americans were in Afghanistan, an exceedingly dangerous country, and the need to institute a system for registering Americans in dangerous, conflict-riven countries to assist in communication with, and if necessary, evacuation from, such countries."
Toomin is proud of her heritage, saying, "TV I am strongly pro-Israel. In fact, my Twitter profile photo was taken at a Stand with Israel rally last spring. I am wearing a t-shirt that says, "Jewish by Birth, Proud by Choice."
Her family name is a reference to tokens cast by the high priest in the Holy of Holies in King Solomon's Temple.  The toomim were tokens cast to indicate judicial decisions of innocence. Toomim means integrity in Hebrew, and that is a heritage I take very much to heart.
Her education is in Non-Proliferation and Terrorism from the Middlebury Institute of International Studies, where I did my Master's thesis on the islamophobia propaganda strategy of the Muslim Brotherhood.
According to Melissa, none of her opponents are as well informed as myself on issues of importance to the Jewish community.
For example, one morning she spent time  on the phone with a Jewish Afghan gentleman, because she was helping evacuate his family to safety from Taliban controlled Afghanistan. If you were to ask any other candidate, no doubt they would tell you there are no longer Jews in Afghanistan, and they would be sadly wrong. They are "Morano," and they are in grave danger from Islamic State Khorason.
Toomim is also an animal rights advocate and can be seen at many events with her dog.
Melissa Toomim is a new candidate for a stronger Jewish voice in the GOP.