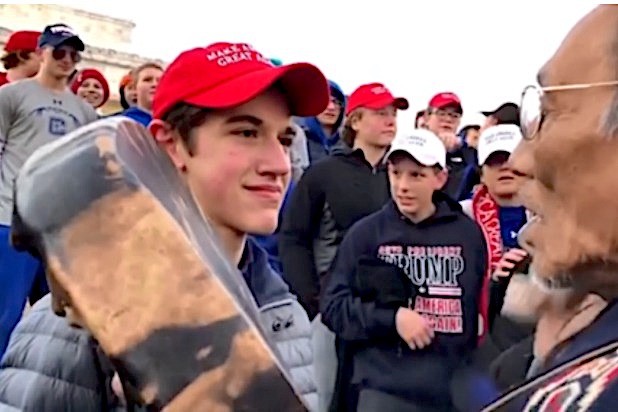 Covington High School student Nick Sandmann has reached a settled with CNN regarding a defamation lawsuit Sandmann filed against the media giant last year. The lawsuit was over the Network's warped coverage of a confrontation between the student and a Native American elder. 
Settled with CNN, Others to Follow? 
Sandmann and his attorneys had filed a lawsuit against CNN last March over coverage that portrayed the student as the aggressor in a confrontation with Native American Nathan Phillips. The initial amount the teen was looking for was $800 million in damages from CNN, NBC and the Post, but it's unclear what the amount Sandmann and CNN settled on. 
The initial footage that was aired depicted Sandmann and fellow teens as the aggressors in the confrontation, showing them as racially charged, before additional footage rolled in, showing that racial slurs were thrown at the students by a group of Black Hebrew Israelites. 
"In short, the false and defamatory gist of CNN's collective reporting conveyed to its viewers and readers that Nicholas was the face of an unruly hate mob of hundreds of white racist high school students who physically assaulted, harassed, and taunted two different minority groups engaged in peaceful demonstrations, preaching, singing, and prayer," the suit, filed in Kentucky's US District Court reads. 
"As many as 13 other defendants will be filed in 30 to 40 days," Todd McMurtry, the teen's attorney told Fox News, listing ABC, CBS, The Guardian, and others to be among the outfits that lawsuits will be filed against.