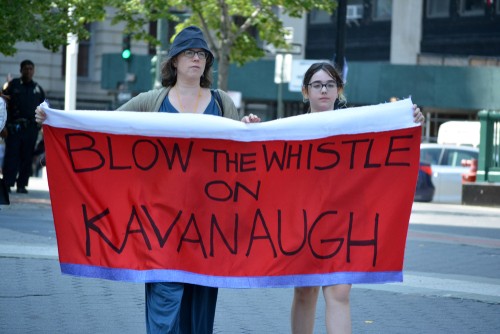 The New York Times revised it's supposed bombshell piece late Sunday, hours after essentially all 2020 Democratic presidential candidates used the original article as reference and reasoning to impeach Kavanaugh, who was accused of sexual assault.
It turns out a significant detail was overlooked before the update – one that the alleged victim's friends apparently said she has no recollection of the assault in question. She refused an interview and has made no comment about the episode, according to The Times.
Clinton-connected lawyer who claims to be a witness to the alleged attack is also the only first-hand statement in the original piece, published Saturday.
"Editors' Note: An earlier version of this article, which was adapted from a forthcoming book, did not include one element of the book's account regarding an assertion by a Yale classmate that friends of Brett Kavanaugh pushed his penis into the hand of a female student at a drunken dorm party. The book reports that the female student declined to be interviewed and friends say that she does not recall the incident. That information has been added to the article.", quoted from The Times' revision.
Kamala Harris, Elizabeth Warren, Bernie Sanders, Beto O'Rourke, Cory Booker and Julian Castro, among many others have cited the allegation throughout Sunday, declaring on Twitter that an impeachment is due for Brett Kavanaugh.
In addition, democrats' effort to impeach President Trump has hit a wall, which may be the reason they're pushing to remove Kavanaugh from high court. Trump's stance on the matter was that Kavanaugh ought to sue for defamation, "The lies being told about him are unbelievable," said President Trump on Twitter.
Mollie Hemingway, who was able to get a copy of the book, cited by the article, on the same day, says: "The book notes, quietly, that the woman Max Stier named as having been supposedly victimized by Kavanaugh and friends denies any memory of the alleged event."
"Seems, I don't know, significant," she added.