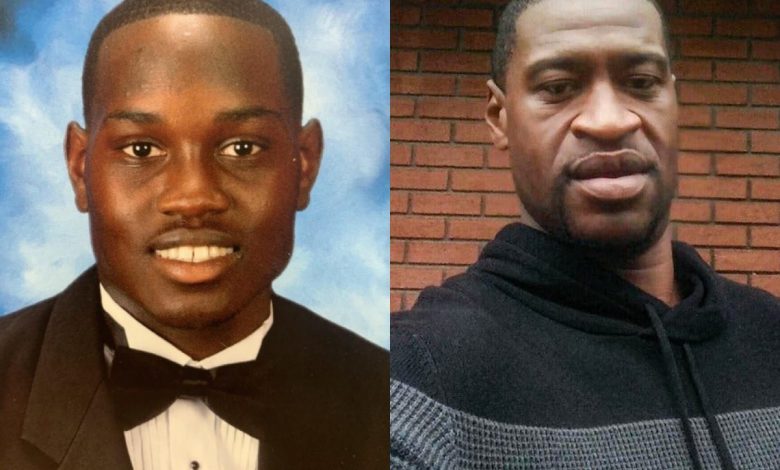 By Bill Martinez:
Don't Reduce the Redemptive Significance of George Floyd's and Ahmaud Aubery's Death as a racist act, because it's greater than that, and has always been. Our emotions and hyphenations are causing us to lose some critical significance in all this pain, and confusion.
Pain and confusion do not serve our greater good.  What we need to understand is that these are more than black Americans.  George and Ahmaud are fellow American citizens.  If we look at them as Black Americans only, the remaining 80% or so, of some Americans naturally disassociate and cannot see this possibly happening to them and ignore the relevance.
World history is replete with evidence and heart-breaking testimonies of our humanity reducing the significance of any fellow human.  An evil force or determinant has decided who are the "chosen ones," and therefore exceptional.  All remaining outside the approved class becomes deplorable, forgotten, less than, disrespected, and disposable.
Certainly, the perpetrators of these murders should be held to account.  And at the same time, there needs to be a collective accounting of personal responsibility.  These are not random acts.  This is an outflow of a corrupt society that has abandoned the rule of law, decency, and moral truth.  This too may be brushed under our collective social carpet with an adjudication of those who are guilty of murder, several days of emotional rioting along with the accompanying destruction of property, businesses, jobs, and incarcerations.
It truly is insane.  We keep doing the same thing and keep hoping upon hope that we'll get better at handling these sorts of atrocities.  The solution lies in the macro experience of who we are as human beings.  For decades, we've tried to find solutions based on a micro perspective and it just keeps cycling back.  The reason it does, is because at the micro-level it's impossible to find a solution.
The solution is in the potential greater good of all, because like it or not, we all have skin in this game.  Looking at Ahmaud and George as our brothers changes everything.  We all mourn and suffer the loss of a family member, whether by birth or time and space.  The reality is we're all on this journey together, as if the Coronavirus hasn't taught us that?
I believe we as Americans regardless of color, creed, station in life have suffered our lives because of slavery, and prejudice.  The lives of Ahmaud, George and so many others can be redeemed by obliterating the walls of cultural separation, racism, etc. for an even more liberated America.  
Imagine an America that is 100% sold out for our Constitutional values and higher morality.  An America that values, protects, honors, and cherishes life.  Interesting that today's culture is striving so passionately for sustainability while disposing the critical elements to achieve these ends.  When life is most important, the end never justifies the means.  That's delusional, a lie, a big cop-out for the accommodation of the day.
If we truly want better and different, it requires a paradigm shift that complements better and different.  The way we think, speak, and act.  This is how we got where we are today.  Our thoughts, words and actions have supported this less than mentality, the cancel and outrage culture.  
 Is it time to do something different?  As has been asked many times before…what do we have to lose?  Please do not dispose the lives of Ahmaud and George to a grave of cultural insignificance and meaninglessness.  Their lives do matter, and it's in that true understanding that we can all become a better version of ourselves.  For a better us…a better America for all!