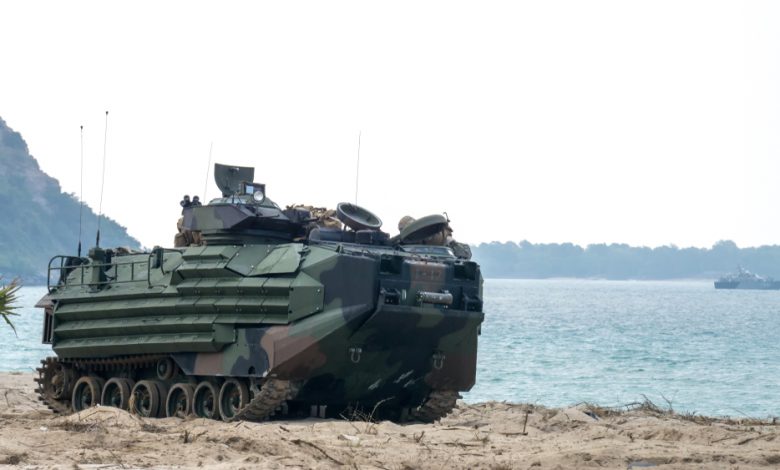 A training accident involving an amphibious assault vehicle (AAV) resulted in the death of one Marine, two injured, and eight still missing. The Marine Corps AVV sank at sea as it made it's way back to the amphibious transport dock Somerset after performing a raid exercise at San Clemente Island.
1 Marine has died, 8 service members remain missing and 2 were injured after an AAV mishap July 30 off the coast of Southern California. All are assigned to the 15th MEU. Search and rescue efforts are still underway with support from the Navy and Coast Guard.

— I MEF (@1stMEF) July 31, 2020
1 Dead 8 Missing After Vehicle Mishap
The incident began at 5:45 p.m. as service members reported that the AVV was taking in water fast and began to sink. The vehicle was carrying 15 marines and one Sailer adding to a total of 16 servicemen. 
As the AVV began to rapidly sink, eight managed to escape the vehicle and were taken to the Somerset. Three more were rescued and taken to a San Diego Hospital where one of them was pronounced dead while the other two remain hospitalized. 
The Coast Guard and the Navy are working together to find and rescue the missing service members, all of which are assigned to the 15th Marine Expeditionary Unit. There have been no signs of the missing Marines despite four warships, four helicopters, and a Coast Guard cutter searching for more than 10 hours. 
Col. Christopher Bronzi, the 15th MEU Commanding Officer, asked people to keep "our Marines, Sailors, and their families" in their prayers, as the search continues.