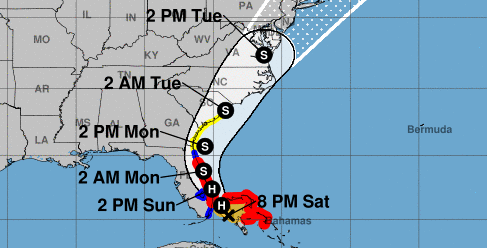 Miami-Dade is under a tropical storm warning, as Hurricane Isaias could potentially hit the county. Mayor Carlos Gimenez is urging residents to be prepared for the storm – with many heeding the call and driving up to Doral Central Park to pick up sandbags. Others in Doral lined up looking for storm supplies at a Walmart store – batteries, water, and other supplies. 
"There's still a lot of uncertainty about the track and we will continue to issue updates," Mayor Gimenez said Friday. 
Miami-Dade Under Warning
Gimenez added that the county has 20 evacuation centers ready and on standby, with COVID-19 measures in place, although they have not been opened yet. Coronavirus testing sites could reopen as soon as Monday, officials said. 
All parks, marinas, and golf courses are being closed by 8 p.m. Friday as well, as part of the preparations against the storm, which although not major, could still cause serious damage, Mayor Gimenez said. Transportation schedules will remain the same, although that could change depending on the timing and severity of the storm. 
The Miami International Airport remains open for all passenger and cargo operations, although flight statuses could change depending on the airline company, so passengers should stay in touch with their airline regarding their flight.