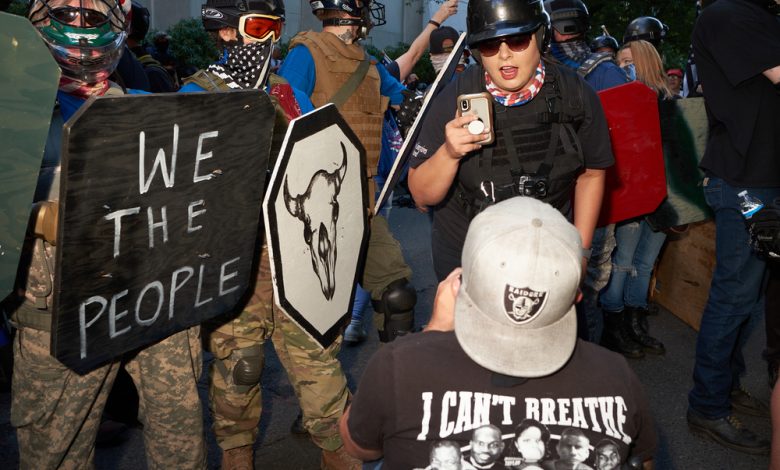 Department of Homeland Security (DHS) officers cleared out a plaza right across an 18-story federal building, with a federal courthouse being near the area. The same courthouse was a target for protests for weeks, as social unrest in Portland began shortly after the killing of George Floyd in Minneapolis on May 25. 
Clashes in Portland Increase 
Local media outlets reported that a demonstration had begun around noon near the Multnomah County Justice Center. Right-wing groups announced a rally near the building Saturday afternoon, which was quickly met with a counter-demonstration by left-wing groups. The right-wingers included the Proud Boys group and the left-wing side included the Democratic Socialists of America and Popular Mobilization, The Oregonian/OregonLive reported. 
The Justice Center has recently been the constant target of left-wing protesters resulting in frequent clashes with law enforcement. This time, however, the police did not intervene in the clash between the right and left-wing groups. Images and videos started circling around showing hundreds of people from both sides fighting and throwing objects at each other.  
Two hours after the clash began, Portland police warned that officers were ready to use crowd control tools and weapons if the violence didn't end – luckily, by late afternoon, the crowds' numbers had dwindled. Portland police said that the gathering wasn't declared a riot due to the possibility of police intervention making the situation more dangerous than it already was.
The clashes in the afternoon followed some at night between police and roughly 200 left-wing protesters at a different location, with demonstrators throwing bottles and rocks at officers, as well as damaging police cars and inflicting minor injuries on several officers. Nine people were arrested with three charged with assault on a police officer.