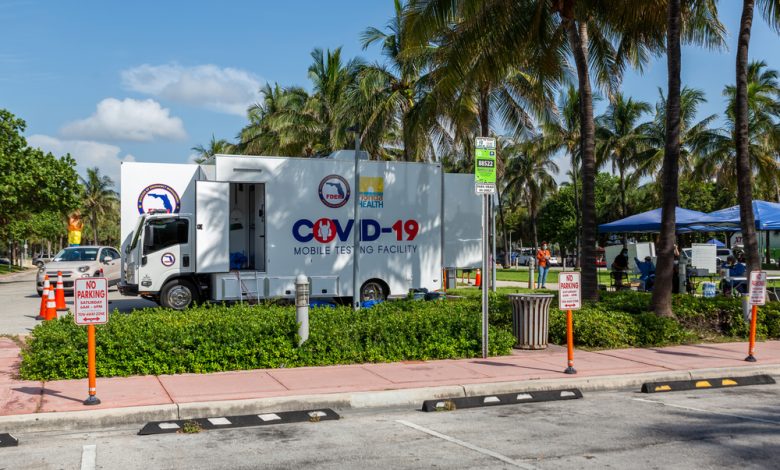 Florida has surpassed New York in total COVID-19 cases and is now second in the US behind only California.
Florida COVID-19 Case Count Surpasses New York
Sunday afternoon data from Johns Hopkins University shows Florida with over 12,000 cases more than New York, with the former reaching 423,855 confirmed coronavirus cases. New York was the original epicenter of the outbreak in the US, although it has been surpassed by California, which is now the most infected state with over 450,000 cases.
New York stabilized around late spring, while a new wave of outbreaks took the South and West of the nation by storm, with Florida reporting over 15,000 cases in a day earlier this month, marking the largest single-day increase in any state since the beginning of the coronavirus pandemic.
Florida reported over 9,300 new cases on Sunday, as well as 77 deaths, as the state's death toll is beginning to catch up to the huge number of new cases, with Thursday seeing as many as 173 new deaths, while New York's latest numbers show 536 new cases and only three deaths.
Each state has been dealing with the pandemic differently, with New York Gov. Andrew Cuomo gradually lifting the state's stay-at-home order based on the situation in each region, with New York City being the last region to enter Phase One of reopening in early June.
Florida, on the other hand, began reopening way back in May, with Gov. Ron DeSantis resisting urges to impose statewide mask mandates and bring back previous restrictions. Instead, DeSantis has allowed local authorities to make their own measures.
As cases are on the rise, with the CDC recording 64,582 new cases and just a little under 1,000 deaths nationwide on Sunday, lawmakers and educational boards are deliberating whether or not to reopen schools in the fall, and what would be the safest way to do so.