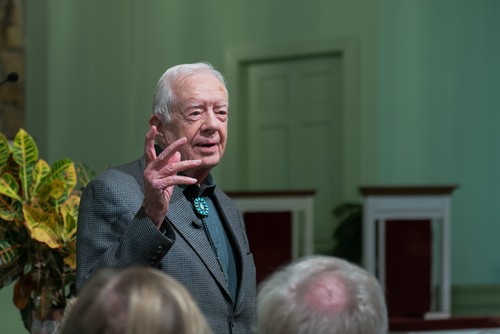 After several accidents and surgery on Nov. 11, former President Jimmy Carter was released from the hospital after two weeks of recovery.
The Oldest Living President
The 39th President of the United States, Jimmy Carter, had a questionable run as President, highlighted by some foreign policy failures, involving Iran and the Panama Canal. He served as President from 1977 to 1981, and later down the line, went on to receive the Nobel Peace Prize in 2002 for his work on peaceful solutions to conflicts, human rights, and promoting economic and social development.
The 95-year-old Carter had a string of incidents this year, from breaking his hip in May and having to go through surgery, to several falls in October, which saw him receive stitches above his brow, and another one, fracturing his pelvis.
Despite the troublesome accidents, recent surgery went well, with the Carter Center saying there were "no complications."
"He and Mrs. Carter look forward to enjoying Thanksgiving at home in Plains, (GA) where he will continue to recover," the Carter Center said in a statement, adding that the former President and his wife were grateful for all the support they received during his stay in the hospital.