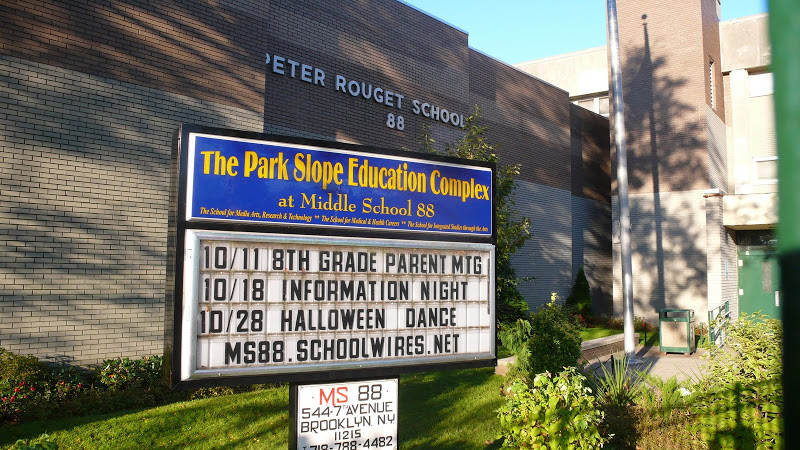 America
How Are Minorities Being Treated In The Largest Democratic School Systems?
… housed in the Park Slope Education Complex.
What's Going On In The New York City Public Schools And Their Hispanic Students?
By: Cindy Grosz
Since the official school year in September, multiple incidents of bullying and violence have overshadowed classroom success and pride for Hispanic students in schools in the nation's largest public education system.  The latest involves an 11-year-old being compared to Harvey Weinstein.  According to a recent report in the New York Post,
Dec 29, 2017 · Jonathan Lopez, a Brooklyn sixth-grader in a schoolyard tussle with two girls, got caught up in the sex-harassment tornado. Jonathan insists he only tried ...
To Summarize:
*Lopez is falsely accused by female classmates of questionable acts of a sexual nature.
*Lopez refused to comply with demands by the school Dean, John Roumbeas, to plead guilty and avoid a disciplinary hearing.  Lopez refused.
*A hearing judge found Lopez innocent, without witness testimony and documented evidence from the dean and one of the accusers.
*Lopez returned to school and was treated like a criminal, even told by the dean he was still in trouble.
*Attorney Maria Chickedantz, representing Lopez and his parents, contacted the school's principal.  DOE spokesperson, Miranda Barbot, defended the actions of school staff.
This 11-year-old got wrongly caught up in Pervnado | New York ...
Sadly, this is not an isolated incident this year.
Abel Cedeno, 18, a student at a Bronx High School stabbed two students in a school in the Bronx.  According to  multiple published reports and an interview with Cedeno in Gay City News:
BY ANDY HUMM | Abel Cedeno, the bullied Bronx gay teen charged with manslaughter in the death of classmate Matthew McCree, had his bail cut in half by Judge William ...
To Summerize:
*Cedeno was taken into custody after the double stabbing at Urban Assembly School For Wildlife Conservation, according to Det. Ahmed Nasser, a police spokesman last September.
*Cedeno was later indicted on a first-degree manslaughter charge after a 15-year-old student was stabbed in the chest and died later and another teen was in critical but stable condition with a stab wound to the chest, police said.
*According to reports, anger levels had been escalating since the beginning of the school year with as many as 20 witnesses with knowledge of verbal, emotional and some physical abuse.
*There was NO record at the school of a previous dispute between the three, police said.
Released on Bail, Abel Cedeno Speaks to Gay City News
In both cases, these Hispanic students seemed to have to defend themselves in situations that could have had different results had protocols been followed.  Witnesses turned a blind eye to bullying, violence and wrongdoings, even death.  Safety and legal agents signed off on what seem to be deliberate, misleading and inaccurate investigations.  Their shoddy work affects families long afterward.
Current Events, Historic Connections and The Impact In Classrooms
Perhaps one reason tensions has reached such volatile levels relates to all the recent events and how they are taught in classrooms.  With little oversight, and many educators with liberal and progressive opinions, bias and unrealistic prejudices override actual fact-based lessons.
Some Examples:
*The honoring of convicted FALN felon, Oscar Lopez Rivera, is as a hero during the Puerto Rican day parade. Others consider him a murderer, a criminal, and anything but a leader.
*Controversy around the Columbus Day Parade.  Are students supposed to learn how the Spanish King and Queen commissioned Columbus's sailing and discovering The New World?
*ICE agents removing ILLEGAL immigrants from classrooms.
*The impact and real versus fake reporting of the natural disasters in Puerto Rico, Texas and other areas around the country.
What Needs To Be Done?
More parents, educators and students need to stand up and act in legal and ethical ways.  A lawsuit was filed in April, 2016, against the New York City Department of Education by eleven students, their families and Families for Excellent Schools, claimed the system failed to address violence against students, and that those affected are mostly minority and LGBT students.  However, a judge urged a settlement later that year, a disappointment to the plaintiffs.
More Families Hope To Join Lawsuit Claiming ... - CBS New York
Apr 06, 2016 · Latest Videos Eye On New York Dining Deals Tony's Table ... More Families Hope To Join Lawsuit Claiming DOE Isn't Dealing With School Bullying. ...
Perhaps if this case went to trial and was reported fairly in the media, who knows what actions could have taken place to prevent the Lopez and Cedeno incidents. Who knows how many others are affected, yet because they were not part of headlines, their stories remain unknown.  Their struggles remain ongoing, way after a school year.
Parents, educators and students of voting age have a choice to speak up and vote out the Democratic leadership that runs these urban public school systems.  It's time to automatically end a one-party allegiance. Democratic leadership has done with majo little to provide safety
and valuable learning tools to graduate and gain meaningful employment.
I feel it's important to stand up for more school choice, more accountability of the school staffs and safety agents who are contractually obligated to provide a comfortable learning environment. Parental accountability, words so threatening to those on the left for fear of losing votes at election time, is a MUST, and not just for headlines and complaints.
Cindy Grosz can be reached at 
info@cindyscorners.com
.  She is a noted education activist.  She is the Founder of Grassroots for Victory 2018 and supports Trump 2020.