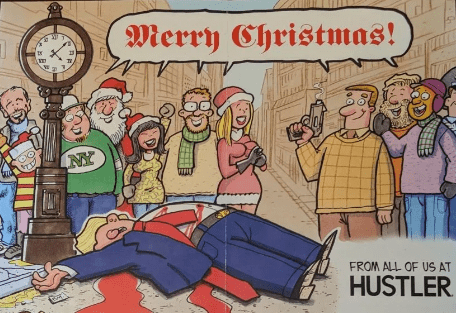 US lawmakers and even anti-Trump attorneys slam Hustler for a Christmas card they sent out, which shows a shocking cartoon of President Trump getting shot. 
Will Action Be Taken? 
The Christmas card sent out by Hustler magazine reached several lawmakers, who were outraged at what was drawn on the card. The scene depicted a cartoon character saying "I just shot Donald Trump on Fifth Avenue and no one arrested me," with a gun in his hand, with the next image being a body resembling the President lying in a pool of blood, with people around it smiling and saying "Merry Christmas," including the gunman. 
Rep. Mike Johnson condemned the tasteless skit, hoping for an investigation on whoever approved and released the image:
Here's all you need to know about the radical Left. A young staffer of mine opened this in a stack of holiday mail today. Just imagine if a conservative had distributed such a disgusting and hateful piece about a Democrat. I hope this will be investigated by the @secretservice pic.twitter.com/0q4FRQGdkY

— Rep. Mike Johnson (@RepMikeJohnson) January 2, 2020
Even anti-Trumpers weren't pleased with the card's contents, as Mark Zaid, an attorney representing the whistleblower in the Ukraine affair, said the card is "unacceptable" and "absolutely crosses the line," despite Zaid himself not being a "fan of this President." 
This is not the first time Larry Flynt, Hustler's founder, has expressed animosity towards Trump, as back in 2017 he put an ad requesting "information leading to the impeachment and removal of office," of Trump, with a $10 million bounty for whoever supplies said information.