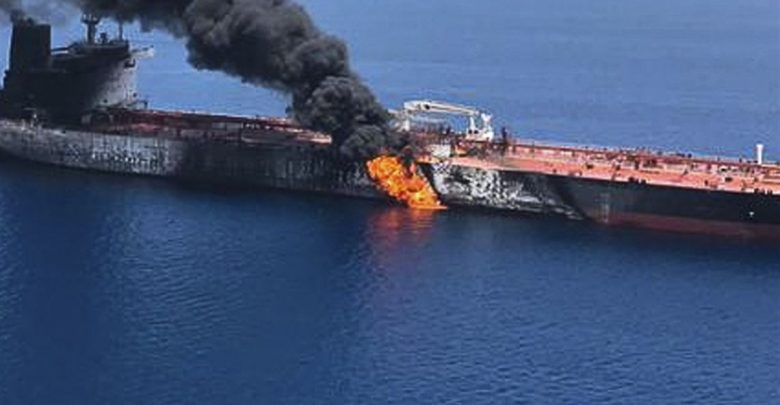 Two oil tankers carrying petrochemicals were crippled by explosion in the Gulf of Oman on Thursday. The two tankers conveying petrochemicals from the Persian Gulf via the Strait of Hormuz and into the Gulf were said to have been targeted early Thursday.
The Gulf of Oman is a passageway that connects energy supplies from Arab nations in the Gulf, including Iran, to consumers around the world. According to reports, the explosion set at least one member of the crew ablaze and forced others to evacuate the vessels.
Even before the facts of the explosion became clear, the backdrop of the steeply rising threats between the United States and Iran gave the incident global attention. The oil tanker attack has resulted in a severe escalation in the strategic waterway, through which one-fifth of the world's oil passes.  
This ''unprovoked attacks'' by Iran, raised alarms on the immediate security and potential military conflict in a vital passageway for a third of the world's petroleum.  Iran immediately denied the allegations and called the accusations part of a campaign of disinformation and ''warmongering'' often used by the United States.
By afternoon the United States released a statement about the attack through the Secretary of State, Mike Pompeo, and said that American intelligence agencies had rounded up their investigation and have concluded that Tehran was behind the attack of the two oil tankers. They pointed to the weapons used, the expertise and resources required are similar to the attacks attributed to Iran in recent times.
They then released a video footage on Thursday night as a compelling evidence to support their claim about the explosion through the United States Central Command.
It is ironic that Iran is crying about the allegations being a disinformation campaign when they themselves were involved in the spread of fake news on Facebook during the 2018 midterm elections. If Iran is indeed responsible for the attacks, they better believe the US will not just sit idly and let this slide.