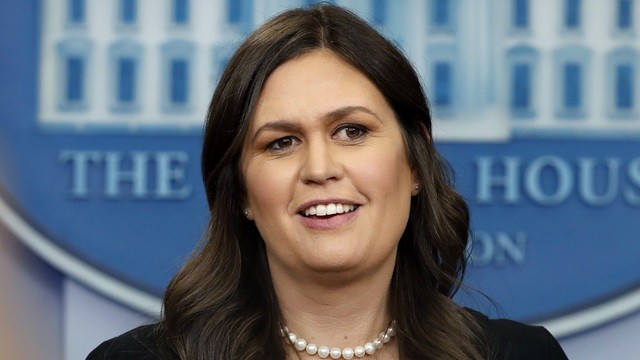 Politics
White House Press Secretary Sarah Sanders Resigns With President Trump's Blessings
The United States president, Donald Trump, said on Thursday through his twitter handle that one of his most trusted White House aides, Sarah Sanders, will be leaving his administration at the end of the month.
After 3 1/2 years, our wonderful Sarah Huckabee Sanders will be leaving the White House at the end of the month and going home to the Great State of Arkansas....

— Donald J. Trump (@realDonaldTrump) June 13, 2019
Sarah Sander is one of the closest and most trusted aides to the president in the White House and one of the few remaining who worked on his campaign that took him to office. She joined the Trump campaign in February 2016 and in July 2017, she was given the job of the top spokeswoman for the administration.
Her tenure was marked by a long-day breakdown in regular White House press briefings. The last time she held a press briefing was March, 94 days ago. Trump has been the one issuing his own statements, often via Twitter, in addition to meeting with individual news organizations for interviews and answering reporters' questions himself rather than through his press secretary. This allowed the president to make a direct connection with the American people.
Trump initially announced her departure via tweeter and later followed his tweet up with a public show of support. Then Trump described her as ''warrior''. Sanders responded to the news by saying that the job had been the ''honor of a lifetime''. Trump is yet to name a replacement for Sanders.
....She is a very special person with extraordinary talents, who has done an incredible job! I hope she decides to run for Governor of Arkansas - she would be fantastic. Sarah, thank you for a job well done!

— Donald J. Trump (@realDonaldTrump) June 13, 2019