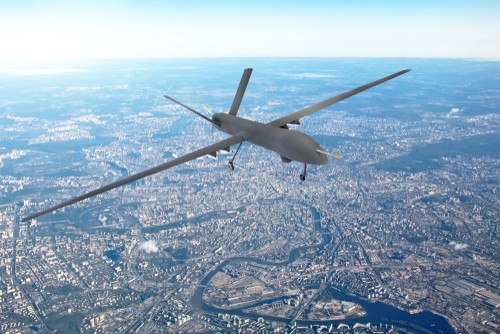 By Alexander Fleiss:
China just announced the deployment of its first autonomous weaponized drone. The drone was unveiled at China's annual National Day celebration. National Day is an annual celebration of Chinese might and focuses on their military advancements. The parade on National Day is often followed by the top spies from the US and other countries watching China. Think of it as draft day for the Chinese military.
As drones become more and more lethal, the industry of combating their lethality will mushroom over the next 5-10 years. Especially as 5G is deployed and drones have the ability to be remotely controlled with a precision of up to 1-2 inches, highly specialized precision. Israel has seen the initial birth of the anti-drone industry.
In the last few months in the Syrian war Israel has just started debuting its anti-drone technology, which has already seen significant success. A prominent Israeli anti-drone firm Vorpal's CEO Nir Raz said: "In many ways, the skies are the Wild West now, and we are trying to change that."
The Israeli Ministry of Economy and Industry says that 50 startups are currently operating in Israel. These 50 startups are currently working on 165 unique designs for Unmanned Aerial Vehicles (UAV). According to the ministry, in 2005 $1.5 billion of drone equipment was exported by Israel and that number was high enough to put Israel as the number 1 exporter globally. By 2012 the ministry says the industry has expanded to nearly $5 billion in global exports.
Some generals and military experts speculate that the future of the drone industry will be focused on defensive combat technology. David's Sling & Israel's defensive technology that was deployed and funded by the US has a lot of trouble defending against smaller intruders. The system was designed by Raytheon to combat cruise missiles. The combat of smaller weapons by smaller weapons is the future of the military. 
Alexander Fleiss is an experienced Chief Executive Officer with a demonstrated history of working in the financial services industry. He founded RebellionResearch.com, The Machine Learning Artificial Intelligence Robo Advisor, after 8 years working for mutual funds and hedge funds.