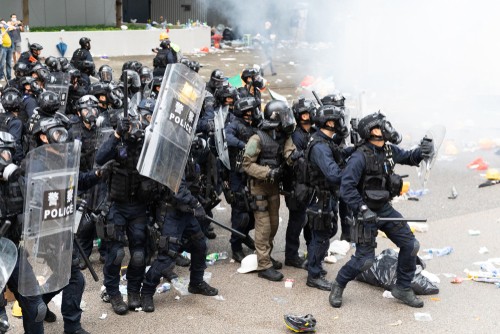 World
Police Shoot Protesters As Violence Intensifies in Hong Kong
Violence intensifies in Hong Kong as a pro-democracy protester gets shot at close range by Hong Kong police, and a counterprotester was set on fire. Both sides have been clashing back and forth, and the city's leader can do nothing but call for an end to all of this. 
Shocking Protests 
The pro-China chief executive of Hong Kong, Carrie Lam, has been blaming the pro-democracy protesters for the chaos that's engulfed Hong Kong, labeling them as "rioters" however, footage from social media and the likes show that nobody is innocent, and all sides are in part responsible for the increase in violence. 
Some of the most recent clashes in the protest involve a man being set on fire, an attack Lam described as "totally inhumane." The man is currently in critical condition, likely with very severe burns, which will scar him for life. 
In another incident, a masked demonstrator shot in the stomach at point-blank as he approached an officer at close range approaches an officer. The man is currently hospitalized in critical condition. His shooting, which was live-streamed on Facebook, fumed the flames of the protest, causing the clashes to increase in intensity.
"If there's still any wishful thinking that by escalating violence, the Hong Kong [special administrative region of China] government will yield to pressure, to satisfy the so-called political demands, I'm making this statement clear and loud here: that will not happen," 

-Carrie Lam stated, per Reuters. 
The demonstrations in Hong Kong have been going on since June, over a proposed extradition law, and further evolved into demands for democratic reforms. While initially much less violent and more peaceful, they've now turned into a festival of chaos, with rampant vandalism and police officers responding with tear gas and water cannons. 
So far, at least 88 people have been arrested on various charges, such as possession of weapons, criminal damage, and unlawful assembly. Nonetheless, there is no indication that the violence in Hong Kong will stop anytime soon. It is highly likely the protests will continue to escalate until a middle ground is reached by the government and the anti-government demonstrators.