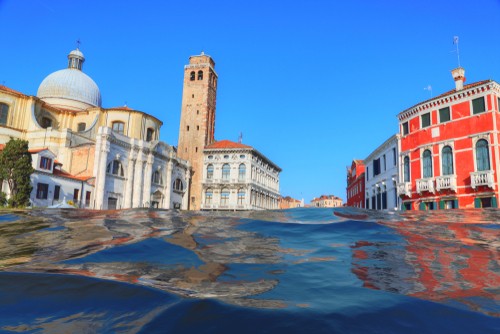 The worst flood in more than 50 years to hit Italy, specifically the historic and artistic city of Venice, has put the country in a state of emergency after water levels reach more than 6 feet late Tuesday. 
Damages and Countermeasures 
"The disaster that hit Venice is a blow to the heart of our country. It hurts to see the city so damaged, its artistic heritage compromised, its business activities on its knees," the Italian Prime Minister Giuseppe Conte wrote on Facebook. 
Floods and power outages all across Venice have resulted in damages, closed theaters, canceled events, and many tourists having to drag their suitcases through the water. 
The flood also hit St. Mark's Basilica, inundated for the second time in its history. Other places important to Venice's culture have been damaged as well, such as the Ca'Pesaro modern art gallery and the La Fenice theater. 
Ferries were also seen to be left on walkways, and despite shop and hotel owners' attempts at holding back the water through wooden boards, the scale of the flood was just too big to handle. 
The flood itself was caused by southerly winds pushing a high tide and a full moon, only making things worse in the canal city, which always had a weak point when it came to water levels rising. 
Climate change was blamed by many for the situation, and despite environmentalists' concerns over damaging the ecosystem, a project to construct moveable undersea barriers with the name "Moses" is in place, meant to limit flooding and damages in cases such as this one. 
The governor of the Veneto region, Luca Zaia, told SkyTG24 that despite the barriers almost being fully complete, even they wouldn't prevent certain areas, such as St. Mark's Square from being flooded if this were to happen again.