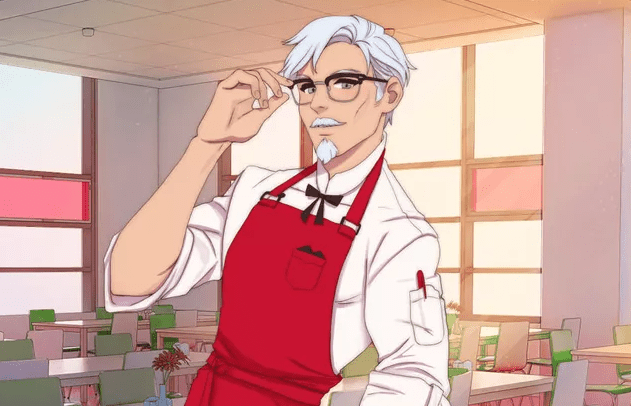 You may think you love KFC, but how much do you really? How much do you love the man behind the chicken, Colonel Sanders? Well, KFC has launched a Colonel Sanders-themed dating simulator for those who want to prove their love to the southern gentleman. 
 A Finger-Lickin' Good Dating Simulator
It's called "I Love You Colonel Sanders! A Finger-Lickin' Good Dating Simulator" – because of course it is – and it lets you attempt to romance the iconic Colonel Sanders himself – because of course it does. 
Given that dating simulators are a predominantly Japanese kind of video game and tend to have anime-esque graphics, the Colonel got something of a makeover for this game. What was once a mild-mannered middle-aged man becomes a buff anime God who has definitely been eating a lot of protein. 
Players will assume the role of a promising student at the cooking academy The University of Cooking School: Academy for Learning. The player will have to navigate the various challenges of trying to form emotional bonds – mostly with Sanders – while also performing well in the kitchen. It's hard to find love and work in a kitchen, apparently. 
KFC says that the game takes players through three acts where they are given choices that will affect the overall outcome of the game and their chances of landing a date with Colonel Sanders. The Colonel – who still wears his dapper white suit and appears to be bulging out of it most of the time – has also enrolled at the school. Sanders is on a journey to become the greatest fried chicken cook and salesman, and it's up to you to deal with that while trying to form friendships and a love that will last the ages. Or something like that. 
As weird as the idea of dating Colonel Sanders is, this is far from the only far-fetched dating sim out there. Who could forget the legendary Hatoful Boyfriend – a game in which players were pigeons looking to date other pigeons? There's also the Dad Dating Simulator where players take on the role of a dad looking for another dad to hang out with. 
If you really love Colonel Sanders then check out his dating game for free and let him know the truth about how you really feel.