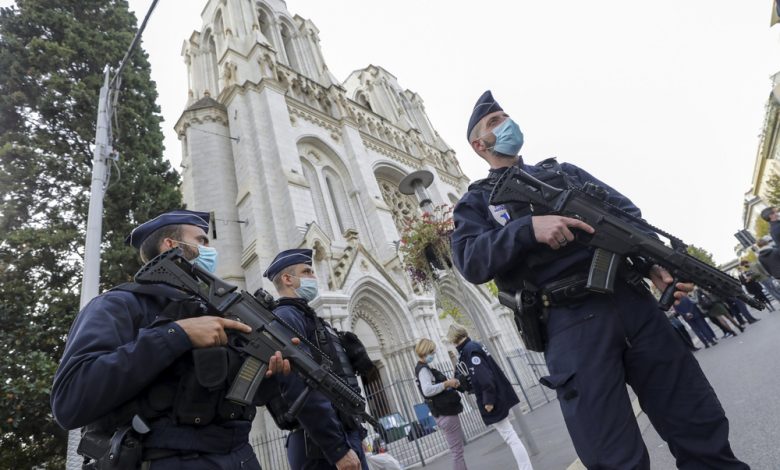 French President Emmanuel Macron announced he would send 7,000 troops to protect religious sites and schools following a spate of terrorist attacks, including a knife attack that left three people at a church in Nice dead.
3,000 Troops Deployed with 4,000 More on the Way
The French government has increased the security alert status to the highest level. The president says he will double the number of troops currently deployed to protect these religious sites and schools. Macron had already sent 3,000 troops, pledging another 4,000 on Thursday.
French authorities say an armed attacker outside of Notre Dame Church was wounded by officers and taken into custody. The church is less than a mile away from the site of an attack in 2016 that left dozens dead.
"He cried 'Allah Akbar!' over and over, even after he was injured," Nice Mayor Christian Estrosi in reference to the attacker. "The meaning of his gesture left no doubt."
The BBC report French police told them one elderly victim was "nearly beheaded" by the attacker. Two people were attacked while they were inside the church, while the third was mortally wounded just outside of the cathedral.
Police have locked down the church and nearby areas while they conduct their investigation.
The Nice attack is the third attack connected to Islamic extremists in the past two months. Another attack was when a French middle school teacher was beheaded on October 16, apparently, for showing his class caricatures of the prophet Muhammad during a lesson on free speech.
The caricatures used by the teacher were created by French satirical magazine Charlie Hebdo. They were the same caricatures that allegedly inspired an attacker to gun down an editorial meeting for the newspaper in 2015, an attack that left 12 dead. An asylum-seeker in France attacked people outside the former offices of Charlie Hebdo in September.
Reactions to the Stabbings
Macron declared support for the fallen teacher, calling him a "quiet hero" for standing against extremism and supporting free speech. Macron also repeatedly defended Charlie Hebdo over its cartoons.
Macron's defense of the teacher has been met with criticism by Muslims across the world.
The attack was condemned by the French Council of the Muslim Faith, who said, "As a sign of mourning & solidarity with victims and their loved ones, I call on all Muslims in France to cancel all the celebrations of the holiday of Mawlid."
A Saudi man was arrested on Thursday in connection with the stabbing of a guard at the French Consulate in Jeddah, Saudi Arabia, though it is unclear if the attack was connected to the attack in Nice.
Turkish President Recep Tayyip Erdogan recently condemned Macron for defending the Muhammad images, while Turkish officials criticized Charlie Hebdo for a caricature of Erdogan.