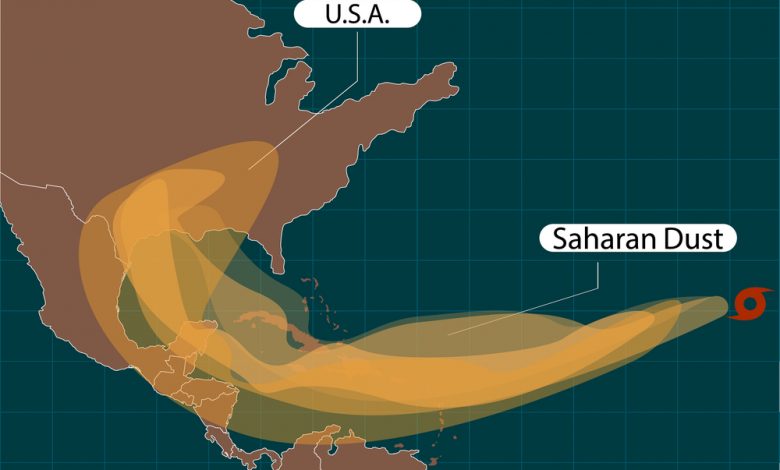 A giant dust cloud, nicknamed "Godzilla" will be passing through the United States soon, as it has already traveled roughly 5,000 miles across the Atlantic Ocean, reaching Mexico. CBS News meteorologist Jeff Berardelli described the passing as the cloud doing a "right hook" over a region from Florida to Texas and going up into North Carolina through the middle of next week. 
The "Godzilla" Dust Cloud 
The cloud is quite unusual, with its official name being the Saharan Air Layer – a layer of air originating from the Saharan desert, although the nickname Godzilla was given to it due to its massive size – roughly 3,500 miles or 5,600 km long. The International Space Station posted pictures on Twitter to give people a better idea of how big it actually is. 
The station orbited above the shadow of the solar eclipse in Asia then the Saharan dust cloud over the Atlantic on June 21. https://t.co/qcHlvByj8M pic.twitter.com/npgL857jSC

— Intl. Space Station (@Space_Station) June 23, 2020
The cloud could be very dangerous to one's health, and if you weren't wearing masks as a measure against COVID-19, you might seriously want to consider wearing one when Godzilla is passing through. The particles from it could irritate your nose, throat, and respiratory tract, making it harder to breathe, and smaller particles could potentially reach your lungs, which could cause major problems, especially if you already have respiratory problems like asthma. 
Getting protection for your eyes is also recommended if you're in an area where the cloud will be passing through, as dust could get into your eyes. Texas Governor Greg Abbott is urging people to stay at home because of both the rise in COVID-19 cases and the "gigantic dust cloud."