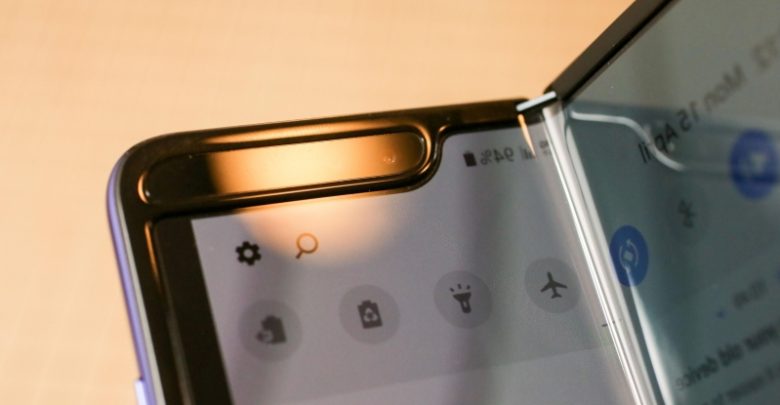 Samsung was hoping to harken back to the golden days of the mid-2000s when just about every phone was foldable as flip-phones. Their Galaxy Fold Phone – which is priced at around $2,000 – isn't out just yet but they have been sent to tech experts and news outlets ahead of being released to the general public. The idea of a foldable phone is impressive, but it seems that Samsung still has some kinks to work out. Gadget reviewers are reporting that their phones have become useless after just a day or two; with problems including the screens breaking, disconnecting, flashing, and otherwise glitching.
Dieter Bohn with The Verge posted that the phone he received had a bulge on it that caused the screen to distort rendering it unusable. Mark Gurman with Bloomberg said that his review unit of the phone had broken after just two days. He did at least concede he might have done something wrong by accidentally removing the protective film from the screen. One could argue that it shouldn't be possible to remove something so important accidentally.
Even tech reviewers on YouTube have run into problems. Marques Brownlee managed to get the film off as well, and the display on the phone broke. Samsung, for their part, did send out a warning that this layer shouldn't be removed.
Even those who didn't remove the protective layer ran into problems though. Another common problem is one of the screens flickering, which may be caused by the screens becoming disconnected or coming out of sync.
Samsung began taking pre-orders for their Galaxy Fold this past weekend, but they ran out of available stock in a hurry. This could lead to a strained availability when the phone is launched to the public on April 26th. Then again, perhaps some of the people who made their pre-orders are reconsidering their choices given the recent problems.
Samsung released a statement addressing the issue, which reads:
A limited number of early Galaxy Fold samples were provided to the media for review. We have received a few reports regarding the main display on the samples provided. We will thoroughly inspect these units in person to determine the cause of the matter.

Separately, a few reviewers reported having removed the top layer of the display causing damage to the screen. The main display on the Galaxy Fold features a top protective layer, which is part of the display structure designed to protect the screen from unintended scratches. Removing the protective layer or adding adhesives to the main display may cause damage. We will ensure this information is clearly delivered to our customers.