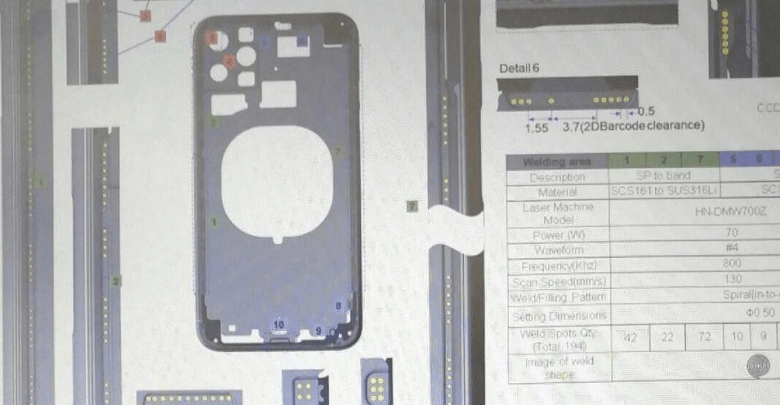 It's that time of year again; there's a new iPhone on the way. This year though, we have an idea of what it might look like. Apple has been known to leak their products recently, but this latest iPhone design leak is one that they would no doubt want to have avoided.
The leak comes to us courtesy of "Mr White", an anonymous industry insider who has built a reputation for leaking Apple products. His latest leak, seen above, is the schematics for the next generation of iPhones. The leaks appear to show a chassis that sticks to the current iPhone designs, but there is a new triple camera array.
Take a look at the top left of the schematics, and you can see that there are three circular cut-outs as well as two square ones. Apple is known to put camera modules inside of the circular cut outs, with a microphone and flash going into the square ones.
The leaked schematics are also in line with other leaks, courtesy of Onleaks (one of the most reliable insiders in the industry) and the popular Japanese blog Macotakara. Onleak took the schematics and used them to create their render of what the phone will likely look like when put together. This render shows that the triple array won't make for the prettiest looking iPhone ever, but this upgrade is necessary for competing with Apple rivals Huawei and Samsung.
And this is the #iPhoneXIMax! 360° video + gorgeous official looking 5K renders + dimensions + XI vs XI Max comparaison 5K renders, on behalf of @Cashkarocom -> https://t.co/EErPaSz2MO pic.twitter.com/b7PbfmQ1fy

— Steve H.McFly (@OnLeaks) April 26, 2019
There is one thing that Mr White may have gotten wrong though, and that's the name of the model of phone. The schematics are labelled "iPhone XR", but many believe that this is a mix-up. This is because the iPhone CS has a dual camera and the iPhone XS Max is rumoured to have a triple camera. As such, it would be strange for the XR, which has a single camera, to jump up to having three cameras after just one generation.
Outside of the case of mistaken identity though, there's no reason to doubt the leak or its authenticity. It isn't going to be the most exciting upgrade Apple have ever done, but when combined with the battery plans Apple have, it will no doubt be just as popular as other iPhones.
With that said, it would be best if Apple's plans for the "iPhone Fold" came to fruition sooner rather than later, considering the mounting sales pressure.