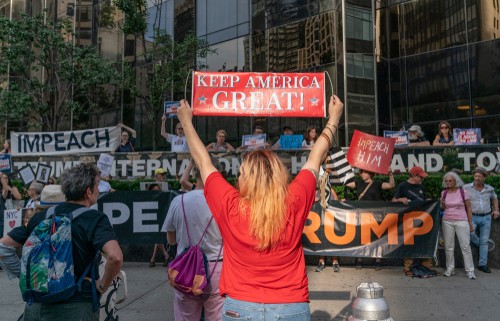 Headline
Public Impeachment Hearings Begin November 13th
House Intelligence Committee Chairman Adam Schiff announced on Twitter that the first public hearings of the ongoing impeachment inquiry would begin on Wednesday, November 13th, 2019, with the first to testify being U.S. diplomat Bill Taylor and State Department official George Kent.
Next week, the House Intelligence Committee will hold its first open hearings as part of the impeachment inquiry.

On Wednesday, November 13, 2019, we will hear from William Taylor and George Kent.

On Friday, November 15, 2019, we will hear from Marie Yovanovitch.

More to come.

— Adam Schiff (@RepAdamSchiff) November 6, 2019
Next in line two days after the very first open hearings in the case will be Marie Yovanovitch, the former U.S. ambassador to Ukraine, with "more to come," as said by Schiff. 
The Impeachment Process So Far
Many have been unhappy with how the entire impeachment process has been handled so far, especially among Republicans. The most significant issue regarding the whole investigation is that everything was happening "behind closed doors," and Republicans receiving unequal treatment. This is primarily due to the Democrats running the inquiry since day one. With the formalization through a House vote, which also set the "ground rules" of the investigation, more and more information and testimonies will go public, and perhaps a conclusion on whether or not President Trump's actions were illegal will be drawn much faster. 
The case so far has been focusing on a phone call between President Trump and Ukrainian President Zelensky. According to the inquiry, President Trump withheld military aid to Ukraine in order to pressure Zelensky into investigating Joe Biden and his son Hunter, their business dealings in Ukraine, and potential interference in the 2016 elections. 
Moving Forward with Transparency 
Although Republicans have complaints regarding the inquiry's lopsided rules, the option to subpoena witnesses is now available. Furthermore, with impeachment hearings going public, worries regarding the transparency of the investigation are fading away. 
"We're glad to see that Chairman Schiff has decided to move his impeachment proceedings out of his top-secret bunker and into the public eye. We're confident that the American people will see that there was no quid pro quo and no pressure on the Ukrainian government – for anything," Fox News was told by a GOP aide. 
Will any solid evidence that the President broke the law be found, or will nothing come out of the inquiry at all? The following weeks will be crucial in deciding whether any pressure was applied or if a quid pro quo was there, despite President Zelensky denying any such thing himself at the UN General Assembly in September.