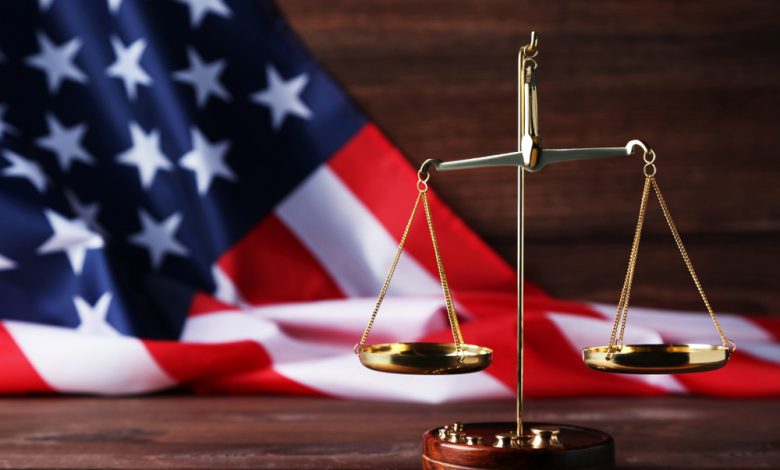 The first day of the SCOTUS hearing had to finish on Monday afternoon, however, it wasn't over until Donald Trump faced the Democrats' sharp accusations. 
Key Moments from Day 1 of SCOTUS Hearing
Chairman Graham Shoots Down Democrats' Arguments Against Barrett's Hearing 
Dems blamed Donald Trump and Senate Republicans they were pushing through Barrett's confirmation process too fast, pointing out the Election is too soon for voters to be able to choose who will fill the vacant chair in the Supreme Court. According to Joe Biden, in this way the Republicans are "violating the Constitution."
On Monday, the Senate Judiciary Committee Chairman Lindsey Graham, R-S.C., rejected this statement, citing Ginsburg herself who said that "a president serves for four years, not three," and "There is nothing unconstitutional about this process."
Leahy States Amy Barrett's Confirmation Could Hurt Women
According to Sen. Patrick Leahy, D-Vt., Barrett can be considered an eventual threat to women's rights. Americans are concerned that if she becomes a justice on the high court, America will be sent back in decades.
Leahy also added people fear that Amy Barrett's rule "will result in the rolling back of voting rights, workers' rights, and the rights of the LGBTQ community to equal treatment." 
Sen. Sasse Tears Court Packing as 'Partisan Suicide Bombing'
Sen. Ben Sasse, R-Neb.'s statement offered the audience and his colleagues a civics lesson by explained the difference between normal partisan politics and disagreements. The Senator also warned that the Dems' call for eliminating the filibuster is aimed at increasing the size of the Supreme Court with liberal justices.
According to Sen. Sasse, "Court-packing would depend on the destruction of the full debate here in the Senate, and it is a partisan suicide bombing that would end the deliberative structure of the United States Senate and make this job less interesting for all 100 of us. "
Democrats: Trump Choose Barrett to "Judicially Torpedo" ObamaCare
According to the Democratic vice presidential nominee Sen. Kamala Harris, D-Calif.,  Republicans aim to confirm Barrett "in time to ensure they can strip away the protections in the Affordable Care Act."
The idea that Trump nominated Amy Barret for her attitude towards the Affordable Care Act, known as ObamaCare, is a key point of Dems' attacks on the Supreme Court nominee. Senators countered this argument by stating that the case is to be heard a week after the election, hence the sense of urgency for Barrett's confirmation.
Donald Trump has noted many times he will nominate a judge who would not support Obamacare, and Amy Barrett was the one who criticized the Supreme Court's 2012 decision that upheld it.
After His COVID-19 Isolation, Sen. Lee Attends the Hearing in Person
Sen. Mike Lee, R-Utah recently finished a two-week isolation after testing positive for COVID-19. The Lee opted to show to the hearing, telling reporters on his way to the hearing that he feels great. Sen. Harris also participated remotely, criticizing Chairman Graham for bringing "together more than 50 people to sit inside a room for hours while our nation faces a deadly airborne virus."
Durbin: Trump Wants Amy Barrett Over Fears of a Contested Election
According to Sen. Dick Durbin, D-Ill., Donald Trump wants Barrett to rule the Supreme Court to follow his "political chores" and "rule in his favor on any election contest."
Durbin also added that "President Trump has indicated he'd be perfectly happy to have a close election decided by a 6-3 conservative majority Supreme Court rather than by the votes of the American people."
Ernst, Hawley Defend Amy Barrett From Religious Attacks
Ahead of her confirmation hearing, Barrett was criticized over her Roman Catholic faith. According to some media reports, Barrett was linked to a religious organization with which she was affiliated to the dystopian television show "The Handmaid's Tale." During Barret's Seventh Circuit confirmation hearing in 2017, Sen. Dianne Feinstein, D-Calif., told her that "the dogma lives loudly within you." 
Such a faith attack was of huge concern to Sens. Josh Hawley, R-Mo. Ernst told Barrett that her "political opponents want to paint [her] as is a TV or cartoon version of a religious radical," adding that "a so-called 'handmaid' that feeds into all of the ridiculous stereotypes they have set out to lambaste people of faith in America. And that's wrong."
Barrett: 'Courts Should Not Try' to Do Congress' Job
Barrett's opening statement underlined the judicial branch's role and noted that it is not the court's duty to "solve every problem or right every wrong" in the US. 
Barrett also added that "The policy decisions and value judgments of government must be made by the political branches elected by and accountable to the people," and "The public should not expect courts to do so, and courts should not try."
Key Moments from Day 2 of SCOTUS Hearing
The second day of Amy Coney Barrett's SCOTUS hearings took place on Tuesday evening. During the confirmation, the Dems attacked the judge's position on abortion and gay rights, as she has repeatedly hesitated, referring to the "'Ginsburg Rule" in refusing to engage in hypotheticals. 
Amy Barrett Responds to a Whole Day's Questioning Without Using Notes
When Sen. John Cornyn, R-Texas asked Barrett about how she prepared for the hearing, she smiled and showed the audience a blank notepad that was placed in front of her.
"The letterhead that says 'United States Senate,'" Barrett replied as giggles echoed throughout the room.
"That's impressive," Sen. Cornyn responded.
Amy Barrett Relies on "
Ginsburg Rule
" to Parry Hypothetical Cases
Dianne Feinstein, Senate Judiciary Committee ranking member, D-Calif., asked Barrett if she supports the late Justice Antonin Scalia's position that the Constitution does not guarantee a gay marriage right. 
Barrett refused to express her point of view, saying that Justice Ginsburg "used this to describe how a nominee should comport herself at a hearing" and "That has been the practice of nominees before her, but everybody calls it the 'Ginsburg Rule' because she stated it so concisely and it's been the practice of every nominee since."
Barrett Knew Her Religion Would Be "Caricatured" 
Although the Dems attacked Barrett, questioning her on hot-button cases related to her Catholic faith, she remained calm. Democrats pointed out Barrett's speech against anti-abortion groups in the past and the signing of an anti-abortion letter in 2006. 
"I've tried to be on a media blackout for the sake of my mental health," Barrett replied, adding that she was "aware of a lot of the caricatures that are floating around."
Barrett stated that she is "committed to the rule of law and the role of the Supreme Court in dispensing equal justice for all. And I'm not the only person who can do this job."
Barrett States She Made "No Commitment" to the White House
When the Dems noted that Donald Trump had chosen Barrett due to the assumption she would rule against the Affordable Care Act and Roe v. Wade, the judge countered the claim saying she had made "no commitment" to the White House. 
Barrett also added that she "had no conversation with the president or any of his staff on how I might rule in that case," and "It would be a gross violation of judicial independence for me to make any such commitment or be asked about that case and how I would rule."
Roe V. Wade Is Not "Super Precedent" 
In a sneak-peek into the way Amy Barrett might deal with an abortion case, she told Sen. Amy Klobuchar that Roe v. Wade was not a "super precedent," or a settled case that could not be overruled. 
According to Barrett, cases like Brown v. Board of Education, which banned segregation in schools, are considered a precedent because "people consider it to be on that very small list of things so widely established and agreed upon by everyone, calls for its overruling simply don't exist." 
Nevertheless, the questions about Roe could not be overturned. Amy Barrett turned to the Harvard professor Richard Fallon, who argued Roe v. Wade is not a super precedent due to the fact that "calls for its overruling have never ceased."
According to the judge, "That doesn't mean that Roe should be overruled," and "It just means that it doesn't fall in the small handful of cases like Marbury v. Madison and Brown v. Board that no one questions anymore."
Sen. Hirono Asks Barrett if She Has Ever Committed Sexually Assault
Sen. Mazie Hirono, D-Hawaii, blasted the Senate for its decision to continue with confirmation hearings instead of working on COVID-19 relief. Then she asked Barrett if she had ever assaulted anyone. Hirono asked if Barrett ever made unwanted requests for sexual favors, committed verbal harassment of a sexual nature, or if she ever faced disciplinary legal repercussions for said actions. The federal judge denied all claims.
"Since you became a legal adult, have you ever made unwanted requests for sexual favors, or committed any physical or verbal harassment or assault of a sexual nature?" Sen. Hirono asked.