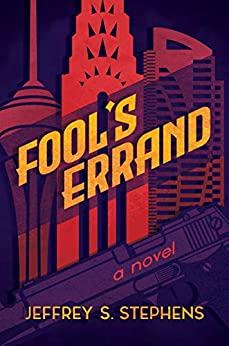 The little man with big dreams, few scruples, and a "big deal" always just around the corner.
This the deceptively simple set-up for Jeffrey S. Stephens' latest thriller, Fool's Errand.
In Fool's Errand, Stephens pulls back a bit from the international intrigues of the Jordan Sandor series (which includes Rogue Mission and Targets of Revenge), to weave a tale of a mysterious last letter, a family quest, and old friends united by a curious wartime caper.
It's 1979. Bell-bottoms and disco still rule the earth. Jimmy Carter is weakening America and people are noticing. "Blackie" Rinaldi, small-time mob bookmaker's errand man, has been dead six years. His son, our first-person protagonist, has discovered a letter his old man wrote just weeks before he died. The letter dances around a tantalizing topic: a cache of money hidden somewhere, possibly in France, probably in the aftermath of World War II.
Blackie was in the war but what he really did has been left up to his spin and interpretation. He was a rear-echelon type in India, then sent to Europe. But the man never talked much about any of it, other than to brag about combat he probably never saw and once in a while chuckle about some "big deal" that would make the small-time hood rich enough to buy a house big enough to swallow a New York city block.
The "big deal" seemed to most like typical Blackie bravado, another scam. But every time he brings it up his pal Benny tells him to shut up. Now here's this letter, the last words the man would ever write -- to his only son.
Small things can have big consequences, and so the son, a successful, single ad executive who really doesn't have the time or inclination to follow his father's sordid past, decides whether he has a choice. If the "big deal" is real, it may make him rich or it may be a crime -- or both. The letter might be the beginning clue in a treasure quest, or it might be just another fool's errand of the type his father tended to for his mafia bosses, and he seemed to enjoy putting his own son on. Blackie wasn't necessarily a good guy. But was Blackie a bad guy? He had a hot temper. He was prone to telling tall tales. He was also a patriot and a veteran, though the true nature of his service is a bit mysterious. What is this letter with its promise of "Money" lurking, waiting, somewhere? What would a son of New York do with riches he cannot legally enjoy to make sure casualties of a different war are never forgotten?
Fool's Errand may be a new classic. Combining elements of some of the best thrillers to ever force you to keep turning the page while bringing its own spirit, Fool's Errand grabs you from the first line and never lets go. Fool's Errand is brisk, it's fast-paced, and it lives and breathes in a real world where real characters don't always do the expected or logical thing, they do the human thing. Sometimes even Blackie does the good thing. Or does he?
Fool's Errand is a great weekend escape, a thriller with chases, escapes, brawls, history, and heart. And Fool's Errand stands tall to never forget the past in the end.