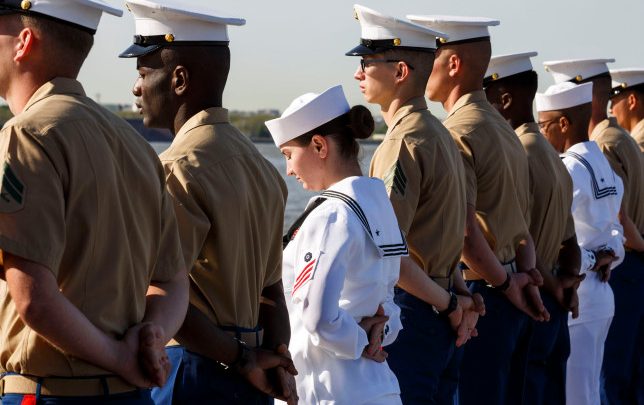 America
Tips to Get the Most Out of Fleet Week for Service Member
Fleet Week is a yearly tradition in New York City, held for the week surrounding Memorial Day weekend. It seems the city is filled with Marines and sailors in full uniform and everyone gets in on the fun; from the men and women in the service to the locals and tourists in the area.
Just about everything in the city is free or discounted for service members during Fleet Week. Broadway tickets are offered for free, television programs have audiences packed with service members, and they have free access to museums. They can even enjoy having meals paid for by other customers as thanks for their service and a range of other treats.
Here's how to get the most out of Fleet Week in NYC.
Take Two Sets of Uniforms (and Don't Forget the Shoes!)
Your summer whites are going to get destroyed by the subway and stains. Even the USMC Service and Navy Service "B" uniforms can't stand up to New York. Make sure you take at least one spare uniform and don't forget to take some extra shoes.
Don't Leave Your Cover Unattended
People are going to want to try your cover on and it has a tendency to go missing during Fleet Week. Don't let it out of your sight if you can help it. Interestingly enough, female ones are more likely to be stolen.
Get Better Seats at Yankee Stadium
If you go to the box office at Yankee Stadium in uniform you can expect to get an upgrade on your ticket. One marine went with a season ticket for bleachers and came back with a row of club seats behind home plate. This tip may also apply to Citi Field.
Pregame with Your Canadian Allies
Every so often a coalition ship will get involved with Fleet Week, typically a British or Canadian ship. Unlike the American Navy, the people on coalition ships are allowed to enjoy a drink on their vessels. Some of them even have bars on board! Drinking with your British and Canadian allies is a great way to build relationships with them, as well as a cheap way to get a little buzzed before going out.
Get out of Midtown to Enjoy the Nightlife
Midtown is full of fleet Week specials. Service members love going there because that's where their ships go, and they want to go to Times Square. Don't forget that New York City as a whole is packed full of great bars. Spend some time in a bar with real New Yorkers, not your fellow sailors. We recommend Alphabet City, the Meatpacking District, and the Upper West Side.
Check in With Airbnb or a Private Club
The New York Athletic Club works with the Marine Memorial Club and Army and Naval Club in reciprocity. Basically, your time with the NYAC is covered by your (free) membership with the Marine Memorial Club or (discounted) membership with the Army and Naval Club. Other university clubs have reciprocity offers. Take advantage of them to get excellent accommodation for less and enjoy the city.
Fleet Week comes just once a year, so get the most out of it while you're in the city!