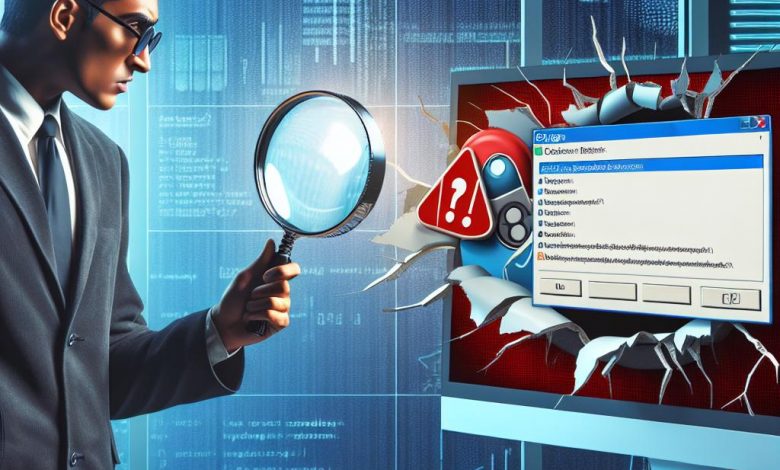 Causes of File Explorer Crashing When Selecting Properties
The behavior where File Explorer crashes when you select the 'Properties' from the right-click context menu is not just an inconvenience, but a signal for other potential issues within your Windows 11/10 system. There can be several reasons that might cause this trouble, leading to File Explorer becoming unresponsive or shutting down unexpectedly. Here are some of the primary reasons:
Conflicts from third-party software or shell extensions
One possible cause of File Explorer crashes can be conflicts caused by third-party software or shell extensions. Some applications you install may not be fully compatible with your existing system, causing problems such as freezing or crashing of system processes like File Explorer. This issue may be particularly noticeable while accessing a mapped network drive, creating a new folder, or accessing files in Quick Access.
Corruption or missing system files
If some crucial system files are missing or are corrupted, File Explorer may not function correctly, and crashes may occur. An SFC (System File Checker) scan or DISM (Deployment Image Servicing and Management) scan can help identify and fix such issues.
Hard drive or memory issues
Hardware problems like a faulty hard drive or memory issues can also cause File Explorer to crash. In such cases, a thorough hardware check is needed to pinpoint and address the problem.
Malicious software
Malicious software, including viruses and malware, can affect the normal operations of your system and might lead to File Explorer crashes. Regular scanning for and removing such threats can help maintain the performance and stability of your system.
Outdated drivers
Outdated or incompatible drivers can also lead to File Explorer crashes. This can be because an outdated driver might not be compatible with the latest system updates or applications. Therefore, keeping your drivers updated is crucial for the stable operation of your system.
Security holes in certain Windows updates
Sometimes, Windows updates may have security holes, leading to unexpected crashes of File Explorer or other processes. While updates are important for system stability and security, it's equally essential to ensure that they're applied correctly and are compatible with your system.
Common Fixes for Explorer Crashing
There are several potential fixes you can try if your File Explorer is crashing whenever you select Properties. Here are some of the most effective solutions:
Restart Explorer.exe process
Restarting the Explorer.exe process can often resolve temporary issues that are causing the File Explorer to crash. This can be done quickly in Task Manager (Ctrl+Shift+Esc), where you can find the process, select it, and click on 'Restart'.
Clear File Explorer Cache
The accumulation of cache files can sometimes cause issues with File Explorer. Cleaning up these cached files can settle down the issues and allow your File Explorer to work correctly. Here, you need to navigate to the 'Folder Options' or 'File Explorer Options' on your system, switch to the Privacy section, and click on 'Clear' to remove the cache.
Run SFC and DISM scan
Performing an SFC (System File Checker) or DISM (Deployment Image Servicing and Management) scan can help detect and repair corrupted or damaged system files that might be causing File Explorer crashes. These scans can be launched from the command prompt and are often successful in resolving various system issues.
Disable third-party Explorer add-ons
Third-party Explorer add-ons can potentially conflict with your system, leading to problems like File Explorer crashes. Therefore, it's useful to disable these add-ons one by one to check if doing so resolves the issue.
Troubleshoot in Clean Boot State
If none of the above solutions work, you might want to try troubleshooting in a clean boot state. When Windows boots in a clean boot state, it only runs essential programs and processes, thus making it easier to identify if a third-party application or program is causing the problem. If File Explorer functions correctly in this state, it's likely that a recently installed app or program is causing the issue and should be removed.
Detailed Steps to Implement Fixes
Once you have recognized the potential causes of File Explorer crashing in Windows 11/10, you can implement various fixes to resolve the issue. Here are specific steps for implementing the most common solutions:
Use Task Manager to restart Explorer.exe process
To restart the explorer.exe process using the Task Manager, follow these steps:
Press Ctrl+Shift+Esc to open Task Manager.
Under the Processes tab, find Windows Explorer.
Right-click on it and choose Restart.
Clear File Explorer cache from Folder Options
To clear the File Explorer cache, use the following steps:
Press Win+R keys, type 'control panel', and hit Enter.
Go to 'Folder Options' or 'File Explorer Options'.
Under the General tab, you'll find the 'Clear File Explorer history' section. Click on 'Clear'.
Use Command Prompt to run SFC and DISM scans
To run SFC and DISM scans, follow these instructions:
Right-click on the Start button and select 'Command Prompt (Admin)'.
Type 'sfc /scannow' and press Enter. The SFC scan will begin.
After the SFC scan finishes, type 'DISM /Online /Cleanup-Image /RestoreHealth' and press Enter to start the DISM scan.
Use ShellExView to disable third-party shell extensions
To use ShellExView to disable third-party Explorer add-ons:
Download the free ShellExView application and run it.
Find the non-Microsoft extensions and highlight them.
Right-click and choose 'Disable Selected Items'.
Utilize System Configuration and Task Manager for Clean Boot troubleshooting
To perform a clean boot on your Windows PC, follow these steps:
Press Win+R keys, type 'msconfig', and hit Enter.
Go to the Services tab, check 'Hide all Microsoft services', and click on 'Disable all'.
Switch to the Startup tab, click on 'Open Task Manager', and disable all startup items.
Click OK and reboot your PC. The system will start in a clean boot environment.
This troubleshooting method can help you determine if the problem lies with third-party software.
Additional Potential Causes and Fixes
While the reasons for File Explorer crashing when you click on Properties in Windows 11/10 have been discussed, along with a range of potential fixes, other related problems could contribute to File Explorer instability issues. Let's delve into a few additional scenarios and potential solutions:
Explorer crashes after resizing or snapping
If Explorer crashes when resizing or snapping windows, this behaviour could be linked to graphics driver issues or certain snapping features. Updating your graphics card drivers or disabling certain windows snap features could resolve the problem.
Issues with Download Folder not responding
At times, Explorer may crash when accessing certain folders, such as the Download folder. Changing the folder view option to 'Details' or clearing the Download folder's history may potentially rectify the issue.
Removal of specifically problematic shell extensions
Some shell extensions can interact negatively with Windows, causing issues such as Explorer crashes. Identifying and removing these problematic extensions using a tool such as ShellExView can often solve the problem.
Checking for incompatible drivers or malicious software
Drivers that have become outdated or software that contains malware can sometimes cause File Explorer to crash. Regularly updating your drivers and conducting system scans for malware using software like Microsoft Defender can significantly reduce the likelihood of system crashes.
Update security patches or Windows version to the latest
Sometimes, the issue of File Explorer crashing can be attributed to outdated security patches or an older version of Windows. Keeping your system updated with the latest Windows updates can often prevent such instability issues and enhance the overall performance of your PC.