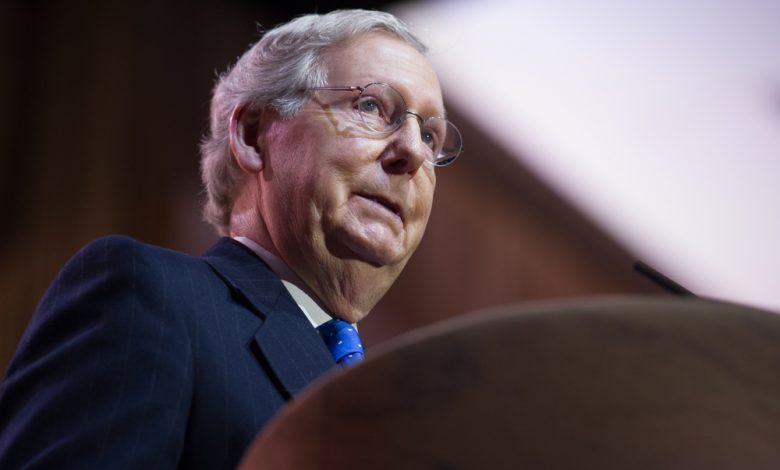 Former President Donald Trump chastised Senate Minority Leader Mitch McConnell, calling the Republican Senator an "unsmiling political hack" that should be thrown out of office.In an email sent to Republican Senators, Mr. Trump called out to saying that if they choose to stay with McConnell, "they will not win again."
Trump Goes Hard on McConnell
He also added that "The Democrats and Chuck Schumer play McConnell like a fiddle—they've never had it so good—and they want to keep it that way! We know our America First agenda is a winner, not McConnell's Beltway First agenda or Biden's America Last."
In the Tuesday statement, the former president also accused McConnell of causing the "Georgia disaster," when Republicans lost the Senate runoff elections in Georgia, ending years of Republican dominance in the state and allowing the Democrats to take control of the U.S. Senate.
According to Trump's statement, McConnell's refusal to support higher stimulus checks in the relief bill, which passed Congress in December, costing Republicans the victory.
"McConnell matched the Democrat offer of $2,000 stimulus checks with $600. […] He doesn't have what it takes, never did, and never will," said Trump.
The former president also used the opportunity to praise himself for recent GOP successes, saying that he received more votes than any other sitting President, as well as managed to flip 15 seats. Trump concluded his statement by blaming McConnell for not being grateful for Trump's endorsement in his 2020 Senate race against Amy McGrath.
"My only regret is that McConnell 'begged' for my strong support and endorsement before the great people of Kentucky in the 2020 election, and I gave it to him. […] Without my endorsement, McConnell would have lost, and lost badly." said Trump, concluding that "[t]his is a big moment for our country, and we cannot let it pass by using third rate 'leaders' to dictate our future!"