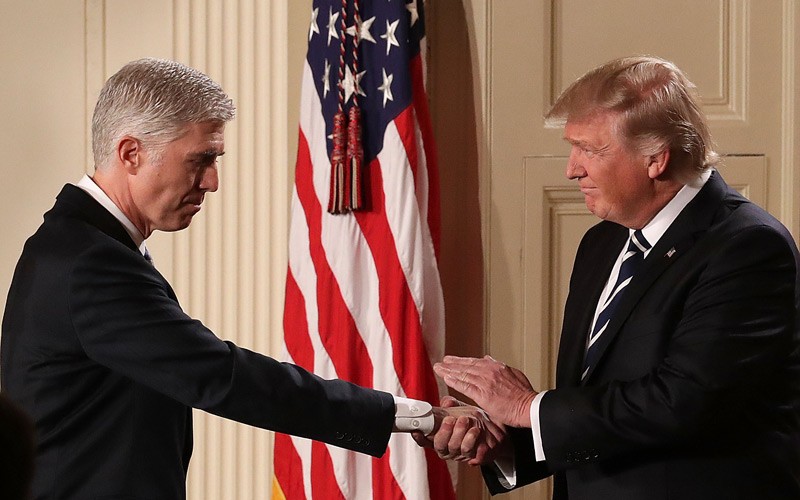 America
Trump Remake of Courts Key to MAGA Agenda
President Trump has had more than his fair share of issues with liberal leaning courts in his almost year and a half as president. The flood of obstructive lawsuits began immediately following his inauguration last year. In his first 105 days in office, President Trump was sued a remarkable 134 times in federal court.

This level of impediment is unprecedented in recent history as the Obama and Bush administrations had been named in only 33 suits combined through the first 105 days of their respective administrations.

Just this year, the administration has so far had to deal with new suits related to subjects ranging from a waiver allowing the avoidance of laws to speed construction of 20 miles of border wall in eastern New Mexico to the release of records related to coal mining threats to West Virginia's endangered species — and seemingly everything in between.

Perhaps the most widely reported court matter was that of executive order 13769. This order, titled "Protecting the Nation from Foreign Terrorist Entry into the United States," is commonly know as the Trump Travel Ban.

It all began in late January 2017, when Washington State Attorney General Bob Ferguson filed a civil suit in the United States District Court for the Western District of Washington, against Trump and the U.S. Department of Homeland Security.

The civil suit asked the court for declaratory relief and injunctive relief intended to stifle the president's travel ban.

The travel ban, which was intended to suspend travel from Iran, Iraq, Libya, Somalia, Sudan and Yemen for 90 days, block refugees from entering the U.S. for 120 days and suspend travel from Syria indefinitely was hardly unprecedented.

The seven countries listed in President Trump's executive order had been previously identified as "countries of concern" under the Obama administration.

At the time, former White House press secretary Sean Spicer told ABC News' "This Week," "There were further travel restrictions already in place from those seven countries," referring to "What the president did was take the first step through this executive order of ensuring that we're looking at the entire system of who's coming in, refugees that are coming in, people who are coming in from places that have a history or that our intelligence suggests that we need to have further extreme vetting for."

Back in December of 2015, when President Obama implemented a measure placing restrictions on certain travelers who had visited Iran, Iraq, Sudan, or Syria on or after March 1, 2011, there was no outrage from the left.

Several weeks later, following the Obama administration adding Libya, Somalia, and Yemen to the list, in what it called an effort to address "the growing threat from foreign terrorist fighters," there was nary a peep from liberals.

No rallies, no "die-ins," no volumes worth of op-eds and hours' worth of daily panels on CNN and MSNBC.
It was mostly business as usual in America.

Although it seems to be a tactic more aggressively utilized against Trump, the strategic use of the courts in an effort to stymie the opposition's progress is certainly not a new concept.

During the Obama administration, the judicial system was brought into play for interpretation on matters including recess appointments to the National Labor Relations Board (NLRB) in between short "pro forma" sessions of Congress, Obama's delaying of the requirement under the Affordable Care Act  (ACA) that larger employers provide health insurance to their employees by issuing new Treasury Department rules, an announced rule requiring that health insurance plans provide contraception and other preventive services free of charge to women and the administration's decision to stop enforcing the Defense of Marriage Act.

It can be said that our system is set up in a manner to prevent absolute power by the majority party by granting lifetime appointments to circuit court judges, whose appointment's often extent over several administrations.

The Trump administration, along with the Republican controlled Senate, has had an issue with vacancies within the State Department and many unoccupied ambassadorships, and has actually been perhaps the most aggressive recent administration in terms of having judicial nominees confirmed over its first two years.

One district that has been a thorn in the side of the president, has been the uber liberal 9th Circuit Court of Appeals. Based in San Francisco, the 9th Circuit covers nine western states. It currently has 29 active judgeships and seven vacancies, and an expected eighth vacancy coming in August. Republicans have the opportunity to alter the political slant of the court if they can confirm as many as 7 new Justices while still holding their majority.

The 90th Circuit has contradicted Trump on matters pertaining to the Deferred Action for Childhood Arrivals (DACA) as well as the so-called, "Trump travel ban."

As of May, the administration has only nominated three judges for the 9th Circuit.

Ryan Nelson, nominated May 15, 2018 for a seat to be vacated Aug. 11, 2018; Mark Bennett, nominated Feb. 15, 2018 for a seat vacated Dec. 31, 2016; and Ryan Bounds, nominated Jan. 8, 2018 for a seat vacated on Dec. 31, 2016.

Republicans would be wise to take advantage of this golden opportunity to continue to remake a court system that has been dominated by liberal appointments over the past 25 years while they still can.

Originally published on Newsmax.com.