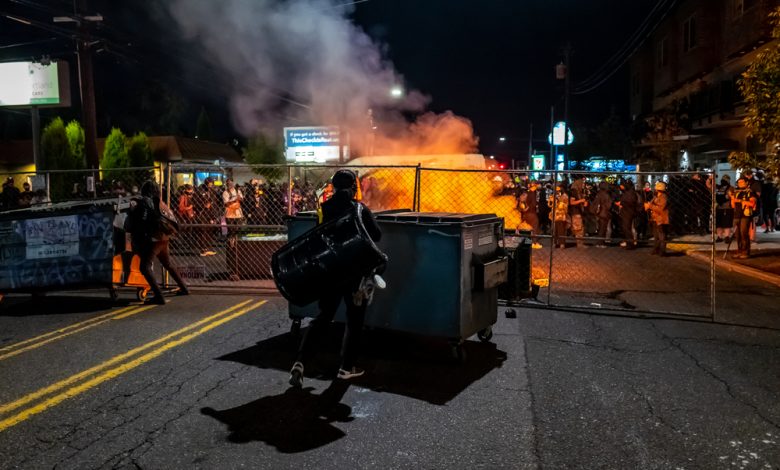 With Portland reaching almost 100 consecutive nights of protests, President Donald Trump has signed an executive order directing the attorney general to identify so-called "anarchist jurisdictions" of cities across the United States. These jurisdictions are places gripped by ongoing protests over social injustice and police brutality. The order would take funding away from these areas. 
Democracy Needs Law and Order to Function
Trump wrote in the Executive Order that "Democracy cannot function" without stable law and order. The order also says Americans are unable to exercise their rights to a peaceful protest. The order states that "property is destroyed, and innocent people are injured or killed." Trump also mentioned the destruction of property in the order, as properties have been damaged during protests. 
"Unfortunately, anarchy has recently beset some of our best States and cities," the order read. "For the past few months, several State and local governments have contributed to the violence and destruction in their jurisdictions by failing to enforce the law, disempowering and significantly defunding their police departments, and refusing to accept offers of Federal law enforcement assistance."
Protests Have Gradually Become More Violent
Protests erupted across the United States following the death of George Floyd on May 25. Floyd was a black man who was killed in police custody. The protests have been mainly organized under the banner of Black Lives Matter. Portland has been at the forefront of the action for nearly 100 straight days, with further fuel added to the fire of social injustice, most recently following the shooting of Jacob Blake in Wisconsin. 
The executive order adds that destruction and violence have become prevalent in cities, including New York, Portland, and Seattle, which have been hit hardest by protests. 
One particular incident in June is laid out in the order. Trump recounts when "Seattle allowed anarchists and rioters to take over six square blocks of the city, an area the unlawful occupiers renamed the 'Capitol Hill Autonomous Zone.'"
The order says law-abiding citizens live and work in these areas, and that the Seattle mayor allowed this "lawlessness" to happen. The situation in Seattle came to a head when two people were killed, and two others were injured by gunfire. 
Trump describes scenes where the local officials in New York City and Portland are actively encouraging violence instead of trying to stop it. 
Potentially Billions of Dollars in Funding Could be Withheld
Trump said that the federal government sends billions of dollars to cities across America to fund programs such as housing, public transport, job training, and social services. The president has told U.S Attorney General William Barr's office to find and identify areas across the United States that "have permitted violence and destruction of property to persist and have refused to undertake reasonable measures to counteract these criminal activities (anarchist jurisdictions)."
Such reports are to be made to the U.S Office of Management and Budget (OMB), which could mean that these areas, which include Washington, D.C, see a reduction in federal funds. 
Trump rallied behind running a campaign – and an administration – built on "law and order" during the recent Republic National Convention. 
In a follow-up statement on Twitter, the president said his administration would do anything in their power to "prevent weak mayors and lawless cities from taking federal dollars while they let anarchists harm people, burn buildings, and ruin lives and businesses. We're putting them on notice today."