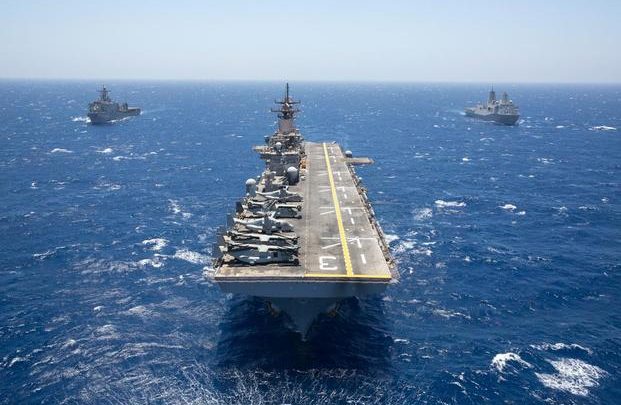 The United States recently conducted "simulated strike operations" using an Air Force long-range bomber and attack aircraft sent out from the U.S.S Abraham Lincoln. The drills, which were held in the Arabian Sea, also included offensive military drills. The exercises aimed to curb any Iranian aggression and showcase the military might of the United States.
A B-52 Stratofortress from the 20th Expeditionary Bomb Squadron teamed up with E-2D Growler and F/A-18 Super Hornets from the Air Wing of the carrier to undertake what was described as "joint training evolutions designed to improve operational tactics in several warfare areas," according to a statement issued by U.S Central Command.
The statement from command went on to say that the fighter and bomber aircraft simulated "strike operations in defense of a national asset" for the live-fire combat drills. The drills, which began on June 1, were described as a demonstration of how quickly and efficiently the American military can join forces to enhance their ability to respond to threats and their lethality when responding to those threats, according to Carrier Air Wing Commander Navy Captain William Reed.
The U.S.S Lincoln and Air Force bomber task force were deployed into the Arabian Sea by the Pentagon in response to threats made against American personnel and facilities in the region by Iranian proxies.
The Trump administration recently approved a new deployment of 1,500 troops to the Middle East; another show of force towards the continued influence Iran is having on the region. This new deployment includes an Air Force fighter squadron, a military engineering unit, aerial intelligence aircraft, and drone units.
The moves made by the United States government represent a defensive measure intended to reduce the chances of further hostilities with Tehran and their allies in the region, according to a statement from acting Secretary of Defense Patrick Shanahan.