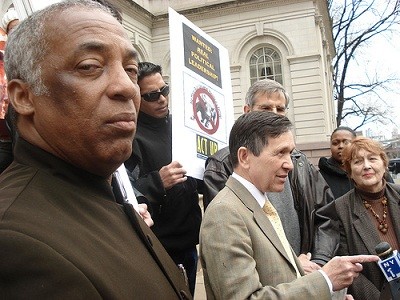 America
Bill That Lowers Education Standards Up For Vote
By Cindy Grosz

Assemblyman Charles Barron, a former Black Panther and recognized by many as one of New York's most visible anti-Semites, sponsored Bill #A10427 in the State Assembly that would eliminate the SHSAT and instead use subjective factors which would destroy the tradition of high scholastic achievement in our city's Specialized High Schools. This bill goes before the Assembly Education Committee on Wednesday, June 6th.

The bill relates to admission to a special high school in the city of New York.  https://www.nysenate.gov/legislation/bills/

Should This Be An Issue to Debate?

We need to ask, is this action meant to do what is best for a child?  We support any student of any religion, race or gender who meets the standards.  Then again, aren't they already attending these schools?

Why is this bill being voted on in such a rush?

Could this bill be a follow up to last month's racist tweets by School's Chancellor, Richard Carranza?  Is it setting up students, who would not normally attend these schools, up for failure?  How will it affect the rest of the students, teachers and surrounding communities? How much will it cost taxpayers?
These are the Assemblymen who support it:

Michael Blake

MaritzaDavila

Michael Montesano

N. Nick Perry

Jo Anne Simon

Phil Steck

Victor M. Pichardo

Vivian Cook

Earlene Hooper

Al Taylor

Jose Rivera

J. Gary Pretlow

Carmen De La Rosa

Michele Titus

Inez E. Dickens

Tremaine Wright

Clyde Vanel

Rodneyse Bichotte

Latoya Joyner

Michaelle C. Solages

Carmen E. Arroyo

Carrie Woerner

Fred Thiele

Nathalia Fernandez

Joseph Errigo

Ari Espinal

David Weprin

Walter T. Mosley

The Sponsor is of course, Charles Barron.

According to the Anti Defamation League's biography of Charles Barron, he is a New York City Councilman and local activist, has associated with anti-Semitic hate groups and promoted extreme anti-Israel positions intended to demonize the Jewish state since his election in 2001.
During media interviews and frequent speaking engagements around New York City, Barron levels a range of accusations against the Jews and the Jewish state, most notably that it should never have been created. He has also asserted that Blacks, not Jews, are the "real" Semites—a position frequently advanced by anti-Semites in an effort to delegitimize Jews. In addition to Barron's public pronouncements, he has engaged with the broader anti-Israel movement and participated in campaigns such as the pro-Hamas Viva Palestina US convoy to Gaza.
Barron has publicly praised brutal international dictators, even describing Libyan President Muammar Qaddafi as his "hero" and an "African freedom fighter" at a pro-Qaddafi memorial service in November 2011 following the Libyan leader's death. During the service, Barron led the audience in a chant of "Long live Muammar Qaddafi." In an interview with local media, Barron was quoted saying, "one person's horrible person can be another person's hero." He had previously praised Robert Mugabe, the president of Zimbabwe who has violently suppressed political opposition and repressed the white minority in his country.
Throughout his political career, Barron has maintained close ties to radical groups like the New Black Panther Party (NBPP), the largest organized black militant hate group in the United States. Barron has forged strong ties with some of the most anti-Semitic and racist members of the NBPP's leadership, finding common ground over what they perceive as legal and social injustices affecting African Americans.

Those Elected Officials Who Oppose It
Assemblywoman and Former Mayoral Candidate Nicole Malliotakis
"This latest nonsensical move by Mayor de Blasio is a classic example of, if it isn't broke, let's take a page from the left-wing playbook to try and "fix" it. Instead of focusing on real problems like fixing the MTA and combating the opioid crisis, the Mayor is more interested in being a progressive hero by villainizing a merit-based system that has set generations of gifted and talented students, many of them minority and low-income, on the path for lifelong success.  Staten Island Technical High School in my district consistently ranks as one of the highest-performing schools in the nation, and I am proud to represent many of its current students and families. But if the Mayor's absurd plan moves forward it will send the message that political correctness is more important than hard work, aptitude and the actual education a student receives in the classroom."
Assemblyman Edward Ra (Education Committee)
"This bill should be the subject of public hearings and discussion before anything moves forward. The Mayor is once again asking Albany to act merely because he wants something rather than having a discussion as to what is best for New York City's children. I will be voting against this legislation and I hope my colleagues on the Education Committee will join me and reject this bill."
Assemblywoman Melissa "Missy" Miller
"I am disturbed that this bill will not be brought up for discussion or have a public hearing before we vote on it. The Special High School Admission Test is a fair assessment tool to help determine if a student is qualified for the amount of work and level of curriculum offered at any one of these schools. This is to help ensure that students will succeed in the school environment. I will be voting against this legislation and hope my fellow members of the Assembly will join me in doing so."
Tom Long, Chairman, Queens County Conservative Party
"To do away with admissions exams to specialized schools is a disservice to those students who have studied and worked hard and to their families who have taught them to strive to be the best that they can be.  To reward mediocrity is just another bad progressive idea from our Mayor."
Education is a nonpartisan issue that needs bipartisan support.
Cindy Grosz can be reached at 
cindyscorners@gmail.com
.