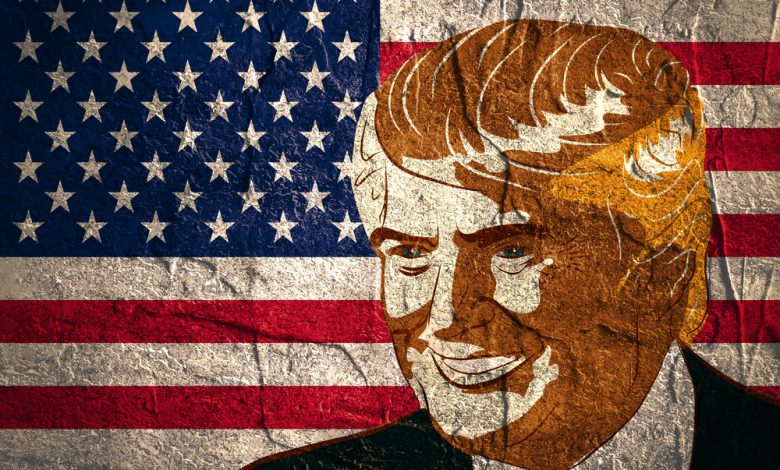 You're a grand old flag, You're a high-flying flag, And forever in peace may you wave.
You're the emblem of, The land I love, The home of the free and the brave.
Ev'ry heart beats true, Under red, white and blue, Where there's never a boast or brag.
But should old acquaintance be forgot, Keep your eye on the grand old flag.
Title: You're a Grand Old Flag 
Lyrics by George M. Cohan
When George M. Cohan wrote the song in 1906, he penned it based on his encounter with a veteran of the Civil War. During those war times, an American Flag was admired, a symbol of pride and praised, not lowered, burned and nobody "took a knee" to it.
Today, there is another war on the flag. The "general" of "union" or UNITED States of America, was born on the same day we celebrate the symbol of American strength. It's colors, red, represents hardiness and valor, white, purity and the blue signifies vigilance, perseverance and justice.
Is it a coincidence that Donald Trump was born on Flag Day?
Trump loves victory, respects military, which uses the flag with honor, especially during a victory at war. Trump honors free speech, as many have used as the reason to speak out about either loving or hating our flag. We use a flag as a symbol of giving the ultimate sacrifice at a military funeral.
And, we pledge allegiance to the flag as one nation indivisible with liberty and justice for all.
It doesn't seem like a true commitment these days when others say it. However, Donald Trump says it and means it.
It is why he and his team will fix the troubled times we face today as a general in a war and then use the flag with pride during victory.
Straight from the White House, highlights from the Trump Administration's agenda on blending together the black and white for love and respect for the red, white and blue.
On June 10th, President Trump held a round-table in Texas to discuss efforts to build opportunity in minority communities across the country.
President Trump is working to ensure a holistic revitalization and recovery for under-served communities across the country.
At President Trump's direction, the White House Opportunity and Revitalization Council is refocusing its efforts to better aid under-served communities on economic, health, and educational issues.
President Trump established the White House Opportunity and Revitalization Council in 2018 to build up forgotten communities.
The Council has worked to encourage investment in Opportunity Zones, streamline regulatory reforms, expand educational opportunities, promote workforce development, and more.
President Trump is working to deliver economic development to minority communities.
The Trump Administration is utilizing federal resources to ensure under-served communities have access to funding and investment.
To help low-income minority communities, the Administration is working to provide access to additional Paycheck Protection Program (PPP) funding.
To ensure these communities receive their PPP, the Administration will also provide essential technical assistance.
The Administration is working to expand Opportunity Zones to include more economically distressed communities.
President Trump and his Administration are focusing on healthcare disparities impacting minority communities.
The Trump Administration will work with Congress to make significant investments in minority-serving healthcare institutions.
The Administration is working to increase access to critical tele-medicine and mobile services in under-served areas.
The President's team will work towards reforming public health data infrastructure, take action on chronic conditions in at-risk populations, and address food insecurity – all of which will help repair healthcare disparities in our communities.
The President is working to promote safe communities and ensure our justice system works for all Americans.
President Trump is working to finalize an executive order establishing best practices for law enforcement.
This effort will also provide law enforcement with guidance on hiring, training and proven strategies for community policing.
President Trump has taken a smart on crime approach, demonstrated by the historic First Step Act and the Administration's efforts promoting second chance hiring.
President Trump is promoting educational and workplace development opportunities that can help build a brighter future.
The President has called on Congress to take action to ensure school choice for all children.
A child's future shouldn't be determined by their zip code.
The Administration will work to empower disadvantaged and minority students with dual enrollment opportunities, improved career pathway programs, and additional relief for Historically Black Colleges and Universities (HBCU's).
The Administration is working to ensure incarcerated individuals have the opportunity to successfully rejoin and contribute to their communities through second chance Pell grants.
If our educational symbol would go back to basics and teach our children who Betsy Ross was, why we have 13 stripes and 50 stars, and what is "The Flag Code," of display, perhaps our children who have our a stronger desire to pass subjects, graduate and all feel privileged.
Donald J.Trump feels privileged to be our president and our Commander-in-Chief.
Happy Birthday Mr. President and my wish for you is to keep surviving throughout the tensions, just like our flag has for over 230 years.